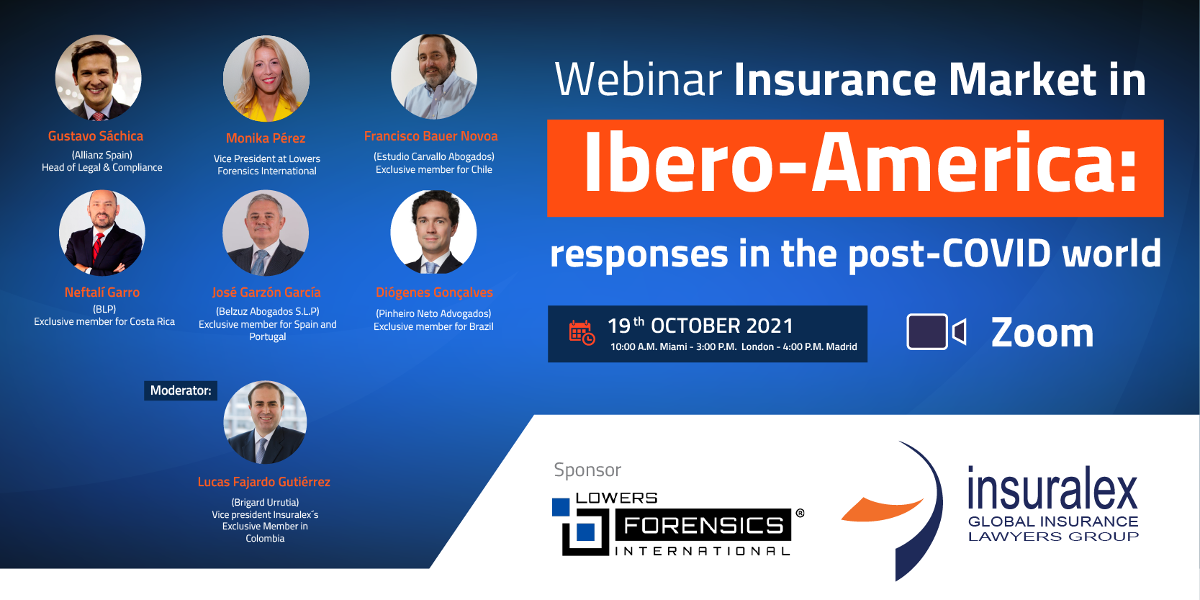 The COVID pandemic that hit the world in 2020 not only shook global health systems, but also impacted with particularly serious consequences in all economic sectors of society. The challenges posed for thousands of companies and states are not yet fully known. However, now that the business, economic and legal uncertainty caused by COVID seems to be dissipating, new issues arise to which the market has responded by reformulating many of its segments. The Ibero-American market, one of the most significant in recent years, due to the rapid development of the LatAm region, is not alien to these processes. Thus, the Ibero-American insurance market face this situation by developing new products whit the aim of responding to the demands posed by society.
With this webinar organized by INSURALEX, a World Wide network of independent insurance and re-insurance law firms, experts from various Ibero-American jurisdictions come together to discuss about the challenges that have arisen during the pandemic and the solution developed by the insurance market. Likewise, we will have the presence of the forensic accounting firm Lowers Forensics International that will give us its vision from the key position that gives it to be in direct contact between the insurer and the client. Finally, we will have the pleasure to be accompanied by a Gustavo Sáchica, Head of Legal & Compliance at Allianz Spain, who, as a key player, will update us on the situation of the Ibero-American market and give us an advance on the forecasts which are expected for the coming years.
We are pleased to invite you to join us in this interesting discussion between the various actors in the Ibero-American insurance market, after which you can raise your questions.



Download the agenda

This webinar is aimed at and designed exclusively for insurance and reinsurance professionals, as well as (re)insurance intermediaries.
Date: 19 October 2021
Time: 10 am Miami (UTC/GMT-4) / 3pm London / 4pm Madrid
Registration url:
https://us02web.zoom.us/webinar/register/WN_RZuCINK4QHaXm4A0qtPIqA
To allow for attendee participation, registrations are limited.
Language: Spanish