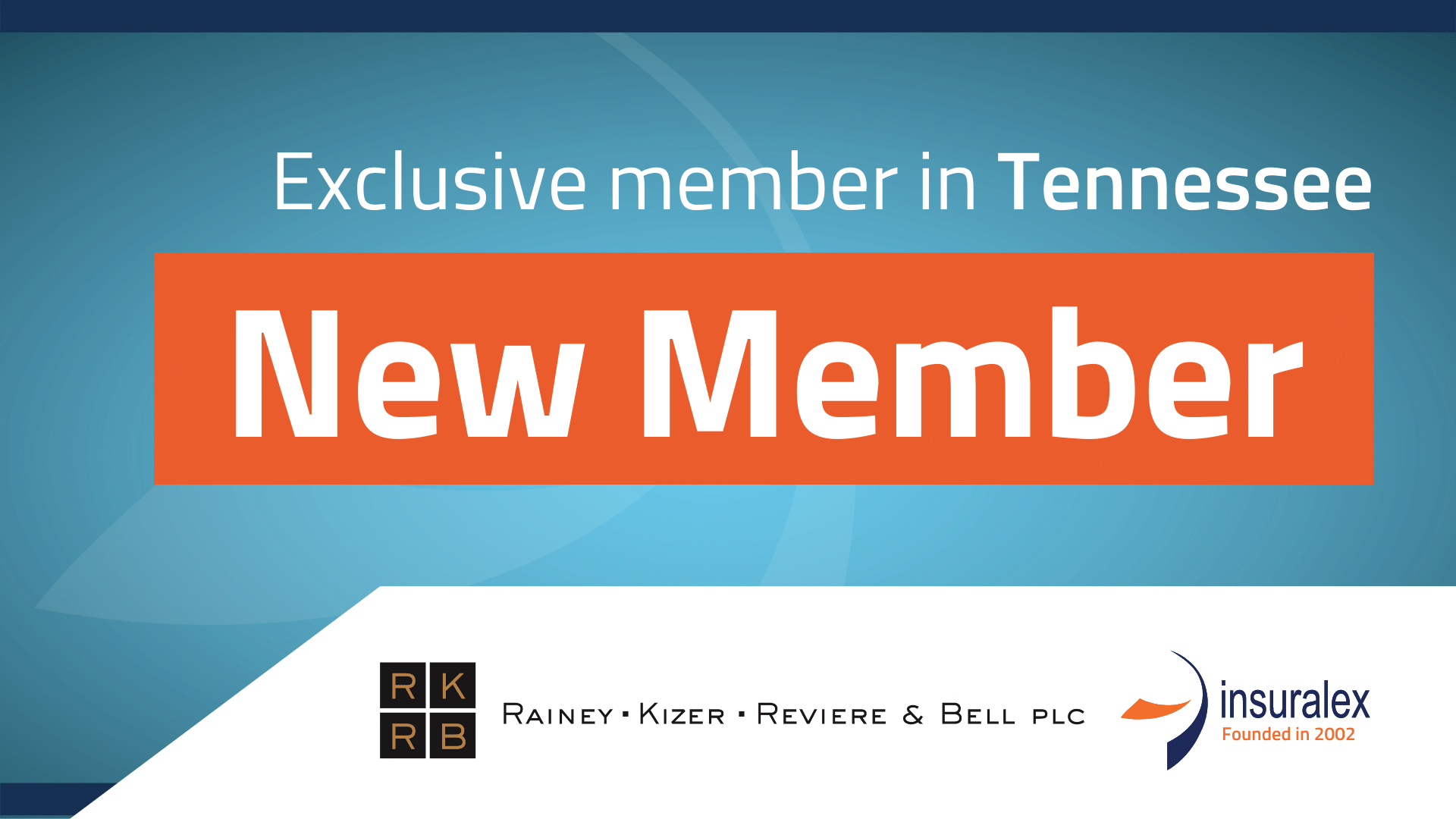 Rainey, Kizer, Reviere & Bell is pleased to announce its selection as the exclusive Insuralex Global Insurance Lawyers Group member firm for Tennessee. Insuralex is the world's leading insurance global network of independent law firms.
Dale Thomas, president of Rainey, Kizer, Reviere & Bell said, "We are excited that the Insuralex network selected our firm to be associated with Insuralex's prestigious group of attorneys and law firms around the world. We have a long history representing insurance-industry organizations, and this provides us an opportunity to expand our legal services to other insurance organizations in the region."
Andreas Weinzerl, President at Insuralex commented, "We are excited to welcome Rainey Kizer Reviere & Bell as the newest member of Insuralex. This outstanding firm is well regarded for their high standards and reliable (Re) insurance legal advice, making them the premier law firm in their jurisdiction. Their addition to the network demonstrates our expanding presence and offering in the United States of America."
About Rainey, Kizer Reviere & Bell
Founded in 1975, Rainey Kizer Reviere & Bell's mission is to provide exceptional legal representation in a timely and cost-effective manner, while focusing on the specific needs of our clients and maintaining our shared values of honesty, integrity, respect, and professionalism. Forty-five attorneys deliver a broad spectrum of tailored, unparalleled services to meet the needs of the Firm's clients. Recent and prestigious distinctions include selection for inclusion in the 2022 Edition of U.S. News & World Report's Best Law Firms. Sixteen RKRB attorneys were recognized in the 2022 Edition of Best Lawyers®, two attorneys were voted as 2022 Best Lawyers® "Lawyer of the Year," and one attorney was recognized in the 2022 Edition of Best Lawyers® Ones to Watch. RKRB is an AV-rated law firm by Martindale-Hubbell.
RKRB has offices in Memphis, Jackson, Nashville, and Chattanooga. RKRB attorneys are also licensed in and regularly practice in contiguous states.
RKRB's significant growth has resulted in a statewide presence with a diverse realm of practice areas, including general insurance defense and coverage. The Firm's insurance practice includes:
Arson, fraud, and investigation
Bad faith and extra-contractual claims
Coverage analyses and litigation
Medical, legal and other professional liability
Civil rights and governmental law
Transportation
Products liability
Premises liability
Employment
Workers' Compensation
Subrogation.
RKRB attorneys are active in local and state bar associations and various defense organizations, frequently lecture at professional conferences, and contribute articles to legal, professional, and business publications.
About Insuralex
Founded in 2002, Insuralex (Trusted International Legal Advisors for (Re) Insurance) is an association of more than 50 independent law firms from Europe, North America, Latin America, Africa, Asia and the Middle East specializing in insurance coverage and reinsurance, defense, litigation and all other related legal services.
Insuralex serves a broad range of clients, including insurance and reinsurance companies, Lloyd's syndicates, insurance and reinsurance brokers, and captives and self-insured companies.
Insuralex is an elite association of insurance law firms, and membership is difficult to obtain. Each Insuralex member is considered a leading law firm in that specialty in their country.
Insuralex is known for the outstanding quality of its member firms and is recognized as such year after year by the Chambers & Partners Guide.
Insuralex is the only international network specializing in insurance to be ranked as a Leading Law Firm Network by Global Chambers.