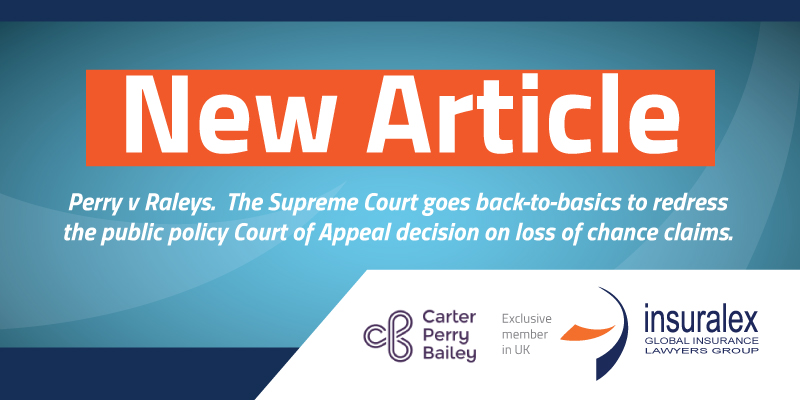 'Loss of chance' claims continue to attract interest from the Courts. In our latest article Mark Aizlewood considers the Supreme Court decision in Perry v Raleys.
The Supreme Court goes back to basics to redress the public policy Court of
Appeal decision on loss of chance claims
Introduction
The Supreme Court has, in its first opportunity to consider such principles, reiterated the approach the courts must take when considering causation in loss of chance cases. The decision makes it clear what has to be proved in cases where the question for the court depends on what a claimant would have done (which the claimant must prove 'on the balance of probabilities') against what third parties would have done (assessed on a loss of chance basis).
Mark Aizlewood
Partner
T: 0203 697 1908
M: 07469 852355
"This information has been prepared by Carter Perry Bailey LLP as a general guide only and does not constitute advice on any specific matter. We recommend that you seek professional advice before taking action. No liability can be accepted by us for any action taken or not as a result of this information, Carter Perry Bailey LLP is a limited liability partnership registered in England and Wales, registered number OC344698 and is authorised and regulated by the Solicitors Regulation Authority. A list of members is available for inspection at the registered office 10 Lloyd's Avenue, London, EC3N 3AJ."

Print to PDF