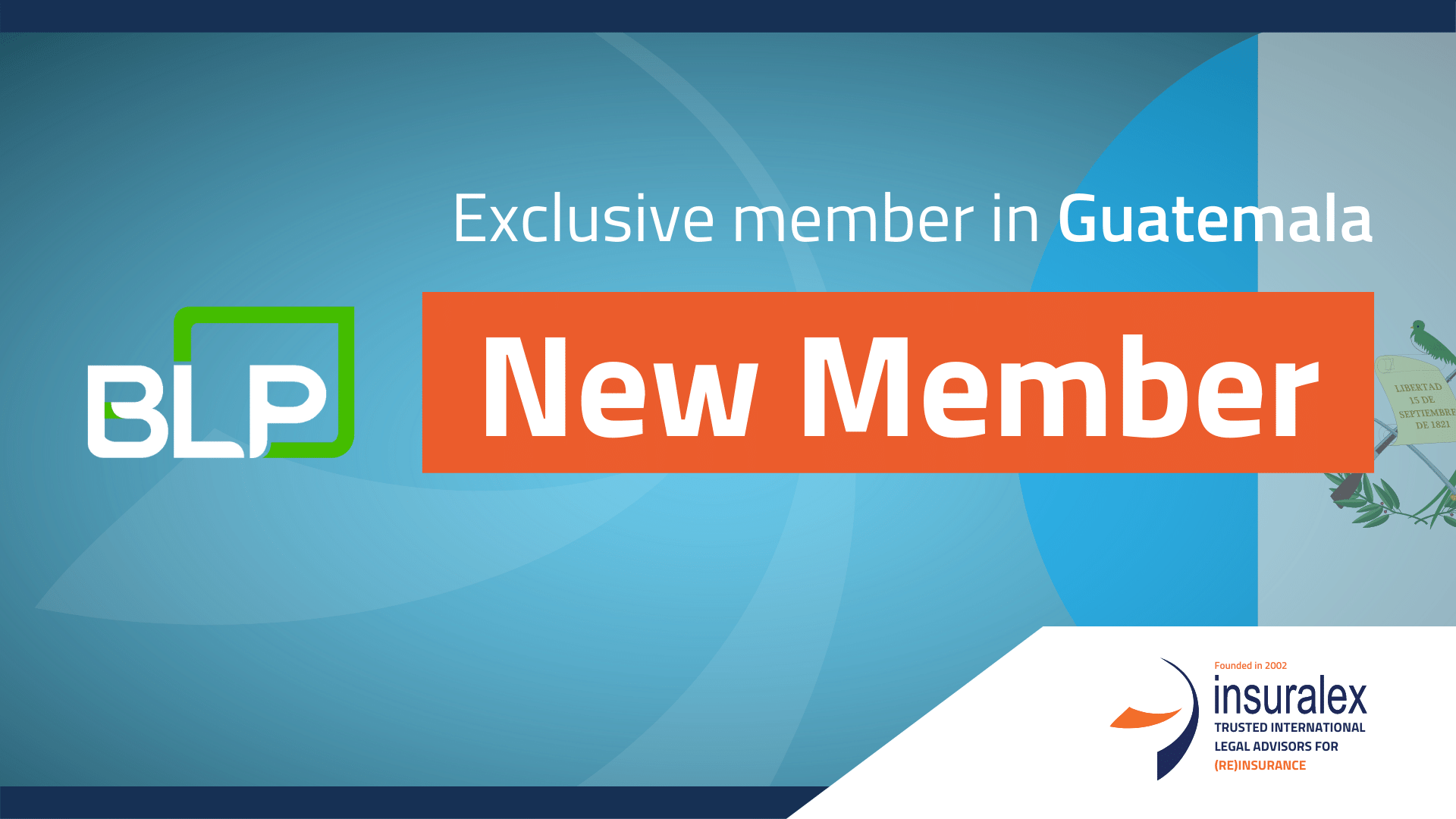 GUATEMALA: Insuralex covers another jurisdiction in Latin America
Prestigious Guatemala´s law firm BLP has been chosen by Insuralex Global Insurance Lawyers Group, a worldwide association of independent insurance and reinsurance lawyers, as its exclusive member firm in Guatemala.
For more than ten years, BLP has provided legal counsel to both emerging and established companies on the best way to conduct business in Central America. With this addition, BLP represents Insuralex Guatemala and Costa Rica. What makes BLP unique is not only the many years of experience in which we've encountered every imaginable situation, but also how we've helped bring success to each one of our clients through an incomparable combination of talent and innovation.
In 2003, a group of attorneys envisioned a different kind of law practice in Latin America. Convinced that the corporate world was only becoming more complex and dynamic, they decided that companies needed legal advisors who offered a distinctive business focus. Thus, the firm's name expresses our vision: Business Law Partners. Over the years, BLP has experienced exponential growth internally while expanding internationally by anticipating the way changes in the commercial, as well as legal, landscape may affect each of our clients no matter where they are located.
Its passionate team of over 180 attorneys addresses the specific requirements of each task at hand, forming highly specialized interdisciplinary teams. Through these teams, its vision is not only to offer creative and successful solutions to any current situation, but also to ensure our client's protection and realization in the long term –avoiding potential legal pitfalls down the road.
BLP is proud to say that it has satisfied and exceeded every expectation its clients have had. As proof, over 500 leading local and multinational companies have already hired BLP's integrated services. The firm as a whole and our individual attorneys have been ranked and awarded year after year by all the leading international guides, including: Chambers & Partners, International Financial Law Review (IFLR), Latin Lawyer, The Legal 500, Who's Who Legal, International Legal Alliance Summit & Awards (ILASA), and more.
BLP has represented many local and foreign insurance and reinsurance companies such as: Assicurazioni Generali, BMI, Chubb, Aseguradora General, Berkley, ASSA. BLP has accompanied them since their registration with the regulatory authorities, providing counsel for many legal matters of their business, and participated in M&A processes. BLP has also acted as advisers for risk rating agencies for insurance companies.
María Inés Arenales, Partner BLP Guatemala comments: "The addition of BLP in Guatemala to the Insuralex network reaffirms the firm's vision of supporting our clients wherever they need under the highest standards of content and service. We are very honored to belong to the best network of insurance experts and we are very excited to be able to work with the best in each country."
Lucas Fajardo, Insuralex's Latin America Coordinator and Member of the Board of Directors of Insuralex, notes that "With this new addition in Latin America, Insuralex directly covers 15 countries, what means that Insuralex is the largest network of insurance lawyers in Latin America. Our clients can take directly advantage of this local knowledge and regional coordination. Our latest FIDES report shows this regional expertise and added value. On top of that, in 2022 Insuralex celebrates its 20th anniversary, what shows two decades of successful work and team coordination."
About Insuralex:
Founded twenty years ago, in 2002, Insuralex is a group created by independent law firms that specialise in Insurance and Reinsurance coverage, defence, litigation and all other related legal services.
Insuralex works for a wide range of clients including insurance and reinsurance companies, Lloyd's syndicates, insurance and reinsurance brokers as well as captives and self-insured companies.
Each member of Insuralex is considered to be a leading practice in this specialist field within its national jurisdiction.
Insuralex Latin American insurance law practice covers countries such as: Argentina, Bolivia, Brazil, Chile, Colombia, Costa Rica, Dominican Republic, Ecuador, Guatemala, Mexico, Panama, Paraguay, Peru, Uruguay and Venezuela. More information: https://insuralex.com/insuralex-members/