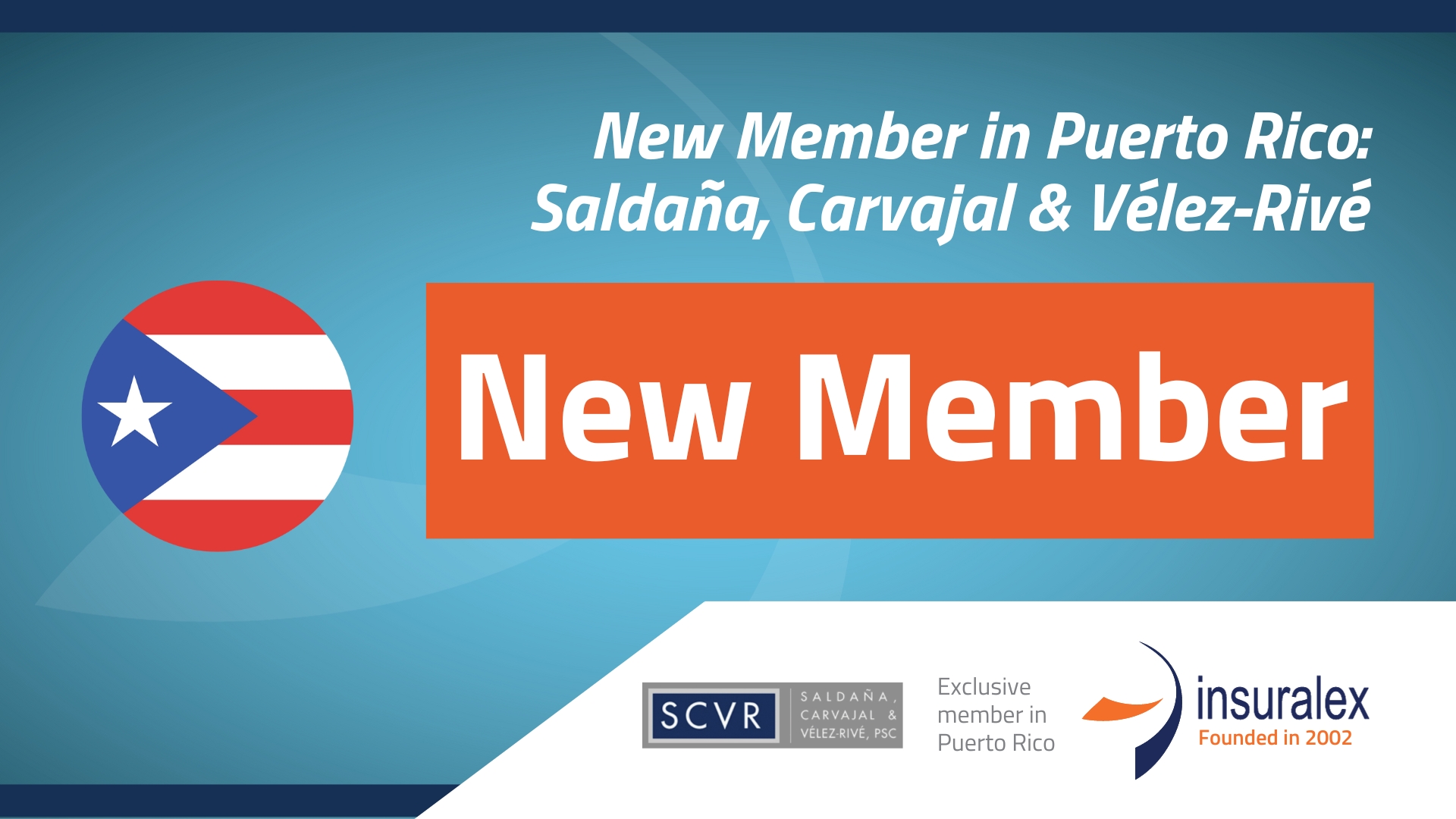 Insuralex picks Saldaña, Carvajal & Vélez-Rivé, PSC as its exclusive member firm in Puerto Rico
Saldaña, Carvajal & Vélez-Rivé, PSC, Puerto Rico's largest and leading law firm in insurance law, has been selected as the exclusive member firm for the Island by Insuralex Global Insurance Lawyers Group.
Insuralex, the world's preeminent insurance and reinsurance law firm network, has over 50 member firms located throughout North and Latin America, Europe, and the Asia-Pacific region, all of which are primarily focused on insurance-related matters.
Going forward, Insuralex member firms and their clients will have access to SCVR's seasoned team of attorneys. In turn, SCVR's clients will have preferred access to its fellow Insuralex member firms.
"We're very honored to join Insuralex", said Ian P. Carvajal, one of SCVR's founding shareholders. "Our attorneys are known for advising and vigorously defending clients with regard to a wide variety of insurance matters, including policy drafting, coverage counseling and defense, regulatory issues, appraisals, and reinsurance. We look forward to contributing this expertise through Insuralex."
Marta Olczak-Klimek, President of Insuralex, commented: "We're delighted to welcome this outstanding law firm to our network. With this addition, we reinforce our commitment to providing our clients and member firms access to the most knowledgeable and skilled counsel around the world."
About Saldaña, Carvajal & Vélez-Rivé, PSC
For over 25 years, SCVR has focused its practice on insurance counseling, litigation of coverage disputes, and representation of insureds. In doing so, SCVR has cemented itself as the top insurance law practitioners in Puerto Rico by successfully handling complicated matters in a cost-effective manner. Its team of attorneys take pride in providing exemplary service and vigorous advocacy by paying close attention to clients' needs and identifying creative solutions to protect their interests.
Founded in 2002, Insuralex is a network of independent law firms that specialize in insurance and reinsurance coverage, defense, litigation, and related legal services. Each Insuralex member firm is considered a leading practice in this specialized field within its jurisdiction. Insuralex works for a variety of clients including insurance and reinsurance companies, Lloyd's syndicates, and insurance and reinsurance brokers.
Related:
(re) Insurance Reports in Latin America
Puerto Rico: Insuralex announces new exclusive member
Insuralex´s Latin American members awarded by Chambers in Miami