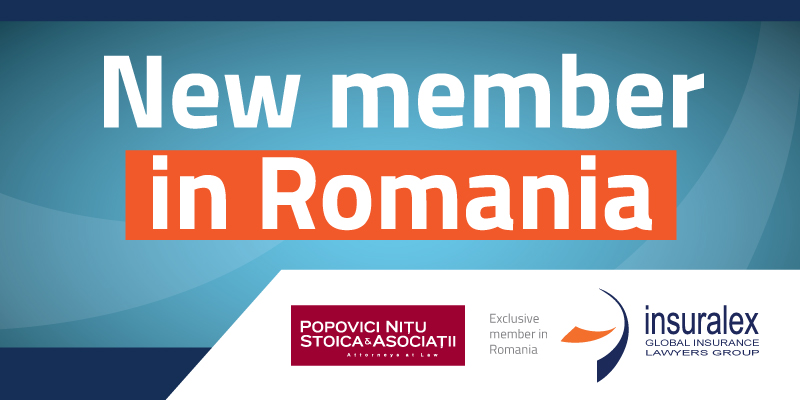 Popovici Nițu Stoica & Asociații, a leading independent law firm and a provider of legal services in the area of insurance law and related litigation, announced today that it has become the exclusive member firm in Romania for Insuralex Global Insurance Lawyers Group, the world's leading insurance and reinsurance law firm network.
As part of Insuralex, clients and member firms will have access to Popovici Nițu Stoica & Asociații´s nationally recognized insurance and reinsurance coverage and litigation practices.
Insuralex is a worldwide association of independent insurance and reinsurance lawyers exclusively focused on the insurance and risk management communities. Insuralex is ranked in Global Chambers as a leading law firm network. Its member firms are located throughout North America, Europe, Latin America and the Asia/Pacific regions.
Martín G. Argañaraz, President of Insuralex, commented, "After several years of providing legal advice from important European countries the time has come to take the next step and be even closer to our clients to optimize the quality of our legal services. Vlad and his team at POPOVICI NIŢU STOICA & ASOCIAŢII offer the Romanian insurance market a unique knowledge of the local jurisdiction that our international Insuralex clients greatly value".
"Popovici Nițu Stoica & Asociații is honoured to join the Insuralex network," said Vlad Neacșu, Head of Insurance with the firm. "Our insurance practice covers the whole spectrum of insurance law matters, from regulatory and compliance, to contract coverage and standardization of insurance terms and conditions, setting up of complex insurance distribution arrangements, running off and transfer of insurance portfolios, mergers and acquisitions in the insurance area, as well as insurance litigation including alternative dispute resolution procedures. We look forward to cooperating with the members of this prestigious international network of insurance and reinsurance lawyers."
About Popovici Nițu Stoica & Asociații
Popovici Nițu Stoica & Asociații is a leading Romanian independent law firm. Established in 1995, as one of the first incorporated partnerships in Romania, the firm brings together strong local resources, with exceptional credentials, outstanding records and distinguished careers in law, business and academia. The Bucharest office today groups 80 qualified lawyers and tax advisors.
The Firm is constantly ranked as a top tier counsel by the most prestigious international publications on the legal market in various areas such as Banking & Finance, Capital Markets, Corporate & Commercial, Dispute Resolution (including Insurance Litigation), Competition, Energy & Natural Resources, IT & Telecom, Mergers & Acquisitions, Real Estate, Public Procurement and Project Finance.