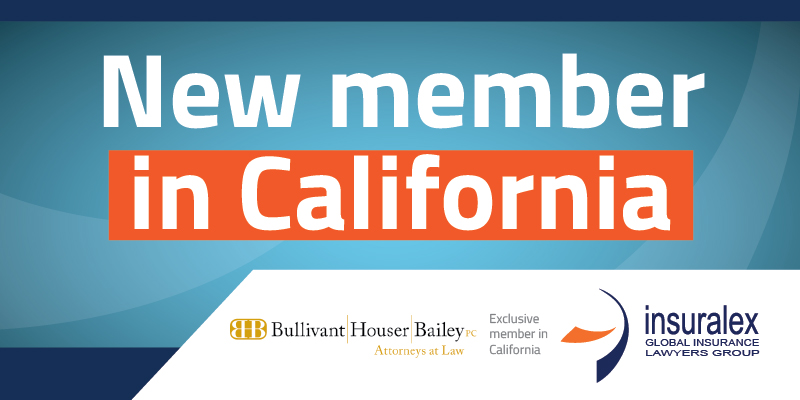 Bullivant Houser Bailey PC, a U.S. West Coast based law firm providing legal services in the area of insurance law and related litigation, announced that it has become the exclusive member firm in California for the Insuralex Global Insurance Lawyers Group, the world's leading insurance and reinsurance law firm network.
As part of Insuralex, clients and Insuralex member firms will have access to Bullivant's nationally recognized insurance and defense litigation practices.
Martín Argañaraz, Isuralex´s President commented: "Bullivant Houser Bailey PC adds considerable insurance law expertise in California. I am very pleased to welcome the team into the Insuralex family."
"Bullivant Houser Bailey PC is honored to join the Insuralex network," said Loren Podwill, firm President. "We have long-term relationships with many of the largest companies in the insurance industry and have served property and casualty, life, health, surety, and reinsurance companies for more than 50 years. Working with the team at Insuralex will be a terrific opportunity to offer the full range of our legal services in our own region, as well as contributing to the worldwide standing and reputation of this excellent group of law firms and lawyers."
About Bullivant Houser Bailey PC
Bullivant Houser Bailey PC represents clients who rely upon our success as trial lawyers, our practical business advice and our expertise in insurance coverage and casualty defense. While we practice out of offices in the western U.S., our reputation is respected nationally, where we have represented clients across many jurisdictions. Our clients tell us that our legal talents are matched by the professional and responsive services we provide to them.
We view our role to be a trusted advisor to the insurance industry and have worked with our clients not only on successful resolutions to their coverage questions and litigation matters, but on developing risk management techniques and strategies that will keep them out of court. Our firm is committed to being at the forefront of the critical issues affecting our clients and to providing cost-effective legal solutions that deliver results.
Our attorneys have a deep understanding of the issues that insurance companies face in such a highly regulated and cost-sensitive environment. We understand and are responsive to our clients' specific business needs related to case budgeting, reporting requirements, and case management. Our approach is to work in partnership with our clients to build creative strategies to solve their unique problems.
Learn more at www.bullivant.com.