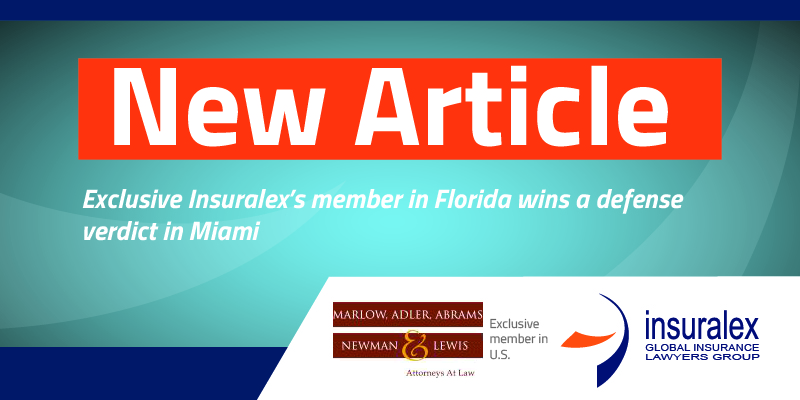 Attorneys from Marlow, Adler, Abrams, Newman & Lewis, Exclusive Insuralex´s member in Florida (US) recently won a defense verdict on behalf of a security guard and security company in a 10 day jury trial in the re-trial of a defamation and malicious prosecution action in Miami.
The Plaintiff had previously been awarded $4.6Million in a trial in August, 2016, that was overturned on appeal in which the Defendants were represented by another law firm.
The insurer decided to retain the Marlow Adler firm for the retrial. In addition to PTSD and other emotional damages, the Plaintiff and his wife sought nearly $5 Million in economic damages.
The Plaintiff, a corporate videographer, claimed that he had been falsely accused of making a hoax bomb threat at a high-rise office building in downtown Miami in July, 2011.
Both the Israeli and German consulates were located in the building. The Marlow Adler attorneys successfully defended against the Plaintiff's allegations and a Miami jury returned a finding of no liability.
Marlow, Adler, Abrams, Newman & Lewis
4000 Ponce de Leon Boulevard, Suite 570
Coral Gables, Florida 33146
Main: 305.446.0500
https://insuralex.com/insuralex-members/insurance-lawyers-marlow-adler-abrams-newman-lewis/