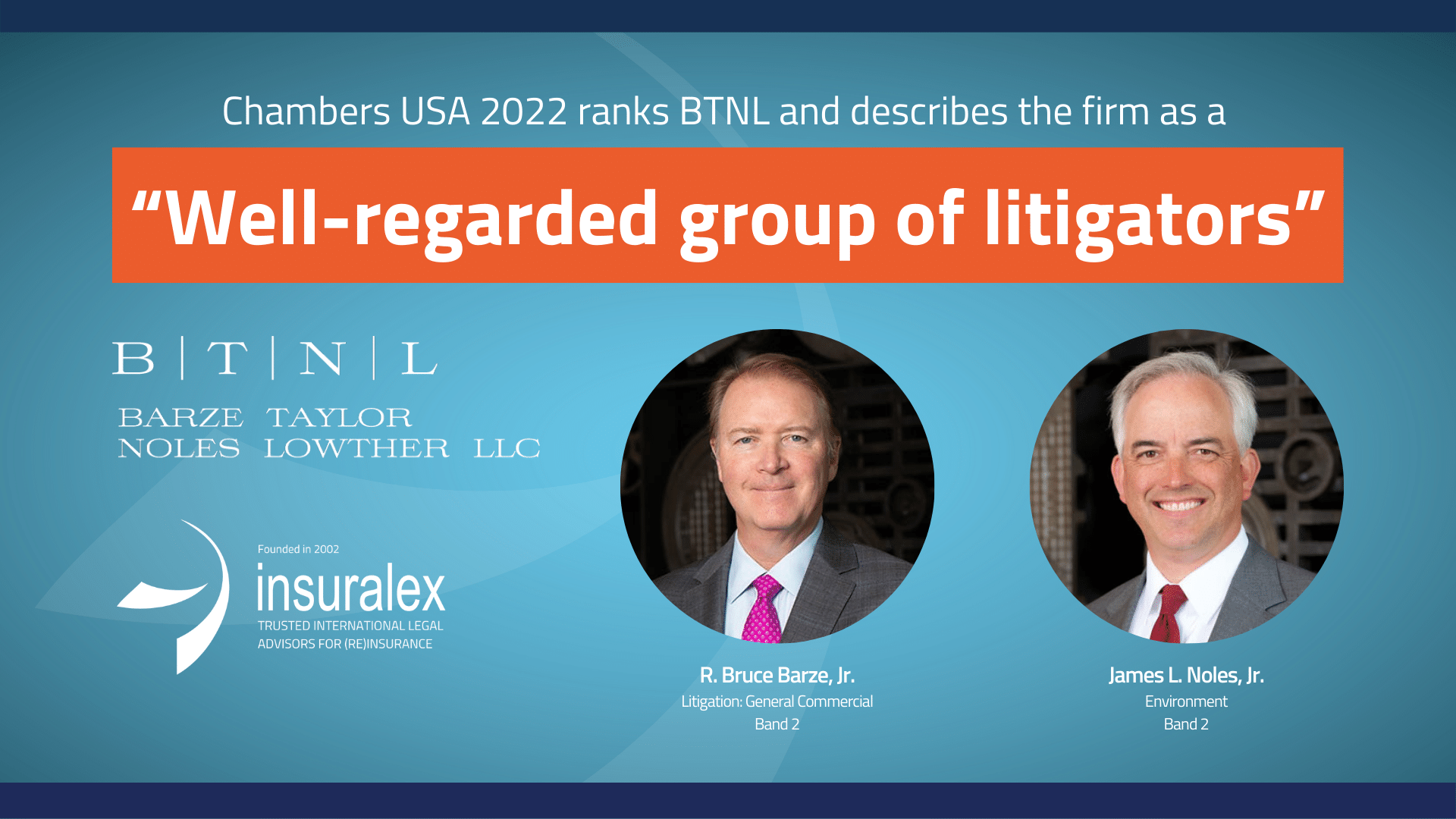 Legal directory publisher Chambers and Partners has once again recognized Bruce Barze and Jim Noles, two of Barze Taylor Noles Lowther LLC's founding partners, as ranked individuals in its 2022 edition of its Chambers USA Guide.
BTNL is also listed in the Commercial Litigation law firm rankings. Chambers writes that sources regard the BTNL team as a "well-regarded group of litigators sought out for its experience in commercial disputes."
Barze is recognized as a ranked individual in Alabama in the area of Litigation: General Commercial. According to Chambers, Barze has a respected litigation practice and regularly represents clients in insurance, product liability, and environmental disputes.
Noles is listed as a ranked individual in Alabama in the area of Environment. Chambers specifically notes his work on matters involving historic preservation and endangered species, as well as his counseling of clients on due diligence relating to landfills, wetlands, and brownfield sites.
Often referred to as "the gold-standard," Chambers delivers insight and analysis on the global legal profession that is unrivalled in its reach and depth. Chambers USA ranks the top lawyers and law firms across all the United States of America. Rankings are based on several factors and considerations, all of which are investigated by the Chambers research team, who are employed full-time in its central London office and work throughout the year contacting lawyers and clients direct by telephone and email.
About Barze Taylor Noles Lowther LLC: Barze Taylor Noles Lowther LLC is a Birmingham, Alabama-based law firm with a national practice focused on litigation, insurance coverage issues, and environmental matters. For more information, visit www.btnllaw.com or follow @BTNL_law_firm.