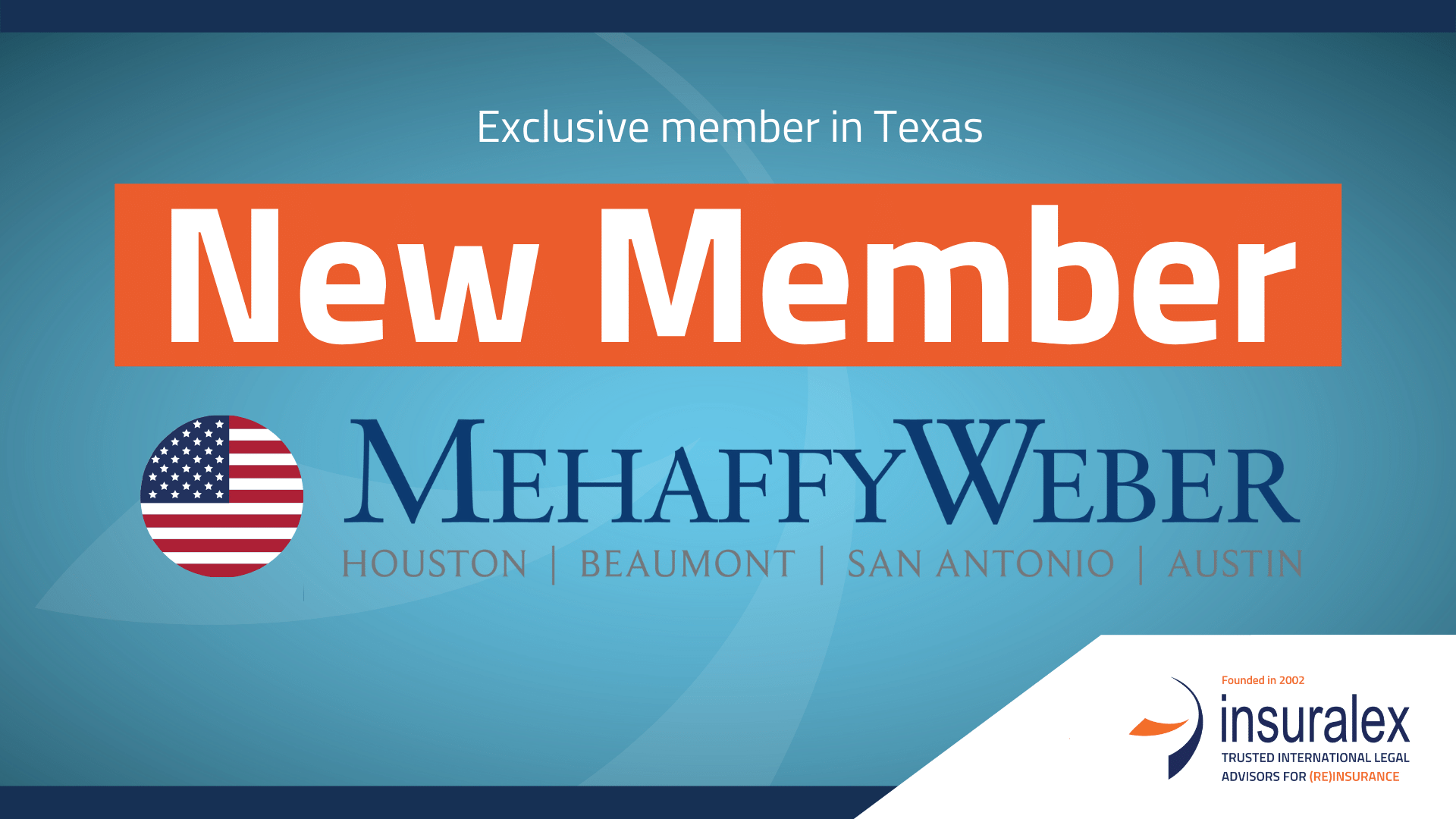 MehaffyWeber, a top ranked law firm and a provider of legal services in the area of insurance law and related litigation, has been selected to serve as the exclusive member firm for Texas by Insuralex Global Insurance Lawyers Group, the world's leading insurance and reinsurance law firm network. As part of Insuralex, clients and Insuralex´s insurance law firms will have access to MehaffyWeber's insurance and reinsurance coverage and litigation counsel and practices throughout Texas.
Insuralex is a worldwide association of independent insurance and reinsurance lawyers exclusively focused on the insurance and risk management communities. Insuralex is ranked in Chambers and Partners as a Band 1 Global Market Leader of law firm networks.
Andreas Weinzierl, President of Insuralex, commented, "Insuralex is outstandingly proud that Mehaffy Weber joins our network of insurance and re-insurance experts, extending our global reach and capacity to offer clients local knowledge in connection with international experience into Texas through a first-class Texas based insurance law firm with offices all over the state."
Bob Black, Managing Shareholder, said: "MehaffyWeber is delighted to be part of Insuralex. We look forward to particular in and working with our new colleagues across the world and to growing the network in Texas."
About MehaffWeber
For more than 75 years, MehaffyWeber has maintained a well-respected insurance defense practice that has successfully argued and obtained favorable decisions in state and federal trial and appellate courts. Insurance companies provide security against life's most difficult moments. We defend insureds in a wide range of coverage matters, including personal injury, property damage, and contract disputes.
Additionally, our attorneys have been called upon to represent insurers in high-stakes coverage litigation in state and federal courts throughout Texas. Our dedicated insurance litigation team has represented insurers in coverage disputes where the amount at issue was in the multi-million dollar range. We are known for our professionalism and decorum, and for keeping our costs in line with the litigation budgets of our clients. We assist insurance carriers, insured parties, and self-insured companies with a wide range of matters, including first party and third party commercial and personal coverage lines.
When litigation is necessary, our talented team of seasoned litigators advocate on behalf of our clients from the inception of a case through appeal in both state and federal forums.
Our clients benefit from our assertive defense in the following areas of insurance law:
· Bad faith/unfair insurance practices
· Business interruption
· Commercial liability
· Construction claims and defects
· Coverage disputes
· Director and officer liability
· Employment
· General liability
· Premises liability
· Product liability
· Property damage
· Negligence
· Toxic torts
· Weather Related Catastrophe Litigation
· Workplace injuries
· Wrongful death
In the competitive and rapidly evolving insurance industry, the need for effective defense counsel is paramount. An experienced insurance defense lawyer can help your company resolve disputes effectively and efficiently, protecting your financial interests in insurance coverage litigation.
A long history of success both in and out of court
While we take pride in skillfully taking complex cases to court, we are also mindful of the costs and uncertainty that come with litigation. Therefore, we approach every case practically and collaborate with our clients to ensure we stay true to their business objectives. We are able to provide experienced legal support and authentic, knowledge-based, and cost-effective legal services for clients looking to do business in key markets across Texas. To learn more about MehaffyWeber, please visit our website.