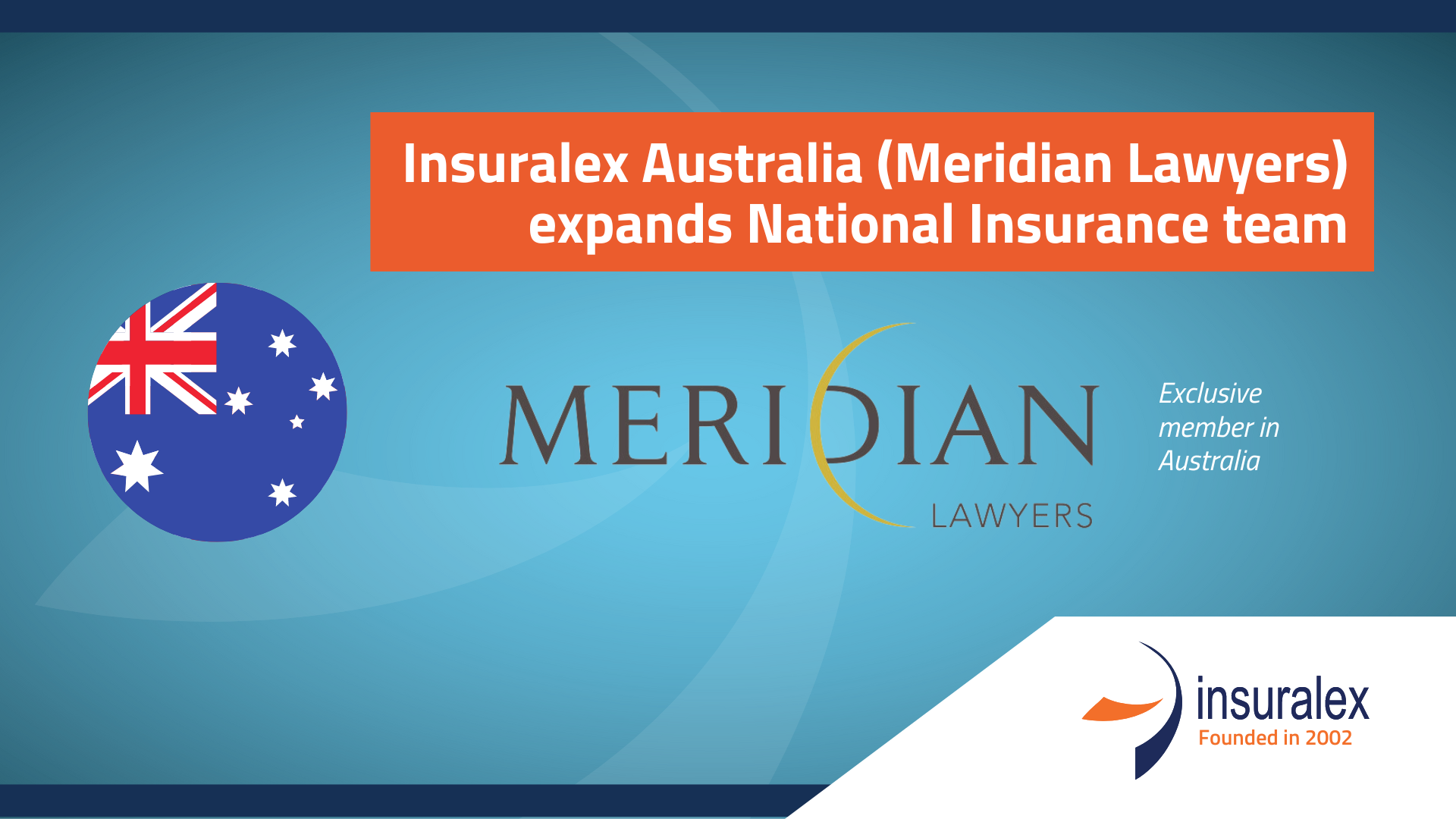 Insuralex Australia (Meridian Lawyers) is delighted to announce the further expansion of their insurance team with the appointment of Principal Vid Dragomirovic, Special Counsel Laura D'Alessandri, Senior Associates Sarah Zevari and Homira Haideri, and additional lawyers and support staff who commence on 17 April 2023 in Meridian's Sydney and Melbourne offices.
The team joins Special Counsels Isabel Cusumano and Phillip Thomas, Senior Associates Nicholas Robertson and Mia Ioannou, and Associate Melissa Sayers who commenced with Meridian's national Insurance team on 11 April 2023.
As a NSW Accredited Specialist in Personal Injury Law, Vid Dragomirovic joins Meridian as a Principal with more than 16 years' focused experience in managing motor vehicle accident claims. Recognised for his experience in the statutory compensation space, Vid was previously a Special Counsel with McCabes.
Also joining Meridian's insurance team from McCabes is Special Counsel, Laura D'Alessandri. Laura has more than 14 years' experience in insurance litigation, with a particular focus on personal injury law. As an accredited specialist in personal injury law, Laura joins Meridian with significant expertise managing proceedings in a range of jurisdictions.
Paul Baker, Meridian's Managing Director, comments on the expanding insurance team:
"I am thrilled to be welcoming each new team member to Meridian. Their exceptional expertise and depth of experience complements our existing team and expands the national insurance offer we are able to provide to our client base."
Commenting on his decision to join Meridian, new Principal Vid Dragomirovic states:
"I am excited to be a part of Meridian's dedicated national insurance team, and for the opportunity to grow my practice. Meridian's team members have an unparalleled depth of expertise in insurance and health law and I look forward to working alongside the team to enhance the services I can provide to my clients."
About Insuralex Australia (Meridian Lawyers)
Insuralex Australia (Meridian Lawyers) provides focused legal advice in insurance, corporate and commercial, workplace relations and safety, commercial litigation and dispute resolution and health.
Named Insurance Specialist Firm of the Year in 2020, Meridian has grown significantly since its inception in 2004 and numbers more than 150 staff with 24 Principals in offices located in Sydney, Newcastle, Melbourne, Brisbane and Perth.
Meridian was recently selected as the only Australian law firm to join the exclusive Insuralex Global Insurance Lawyers Group, the world's leading insurance and reinsurance law firm network. As an Insuralex member firm, clients and Insuralex's insurance law firm network have access to Meridian's insurance services and coverage throughout Australia.