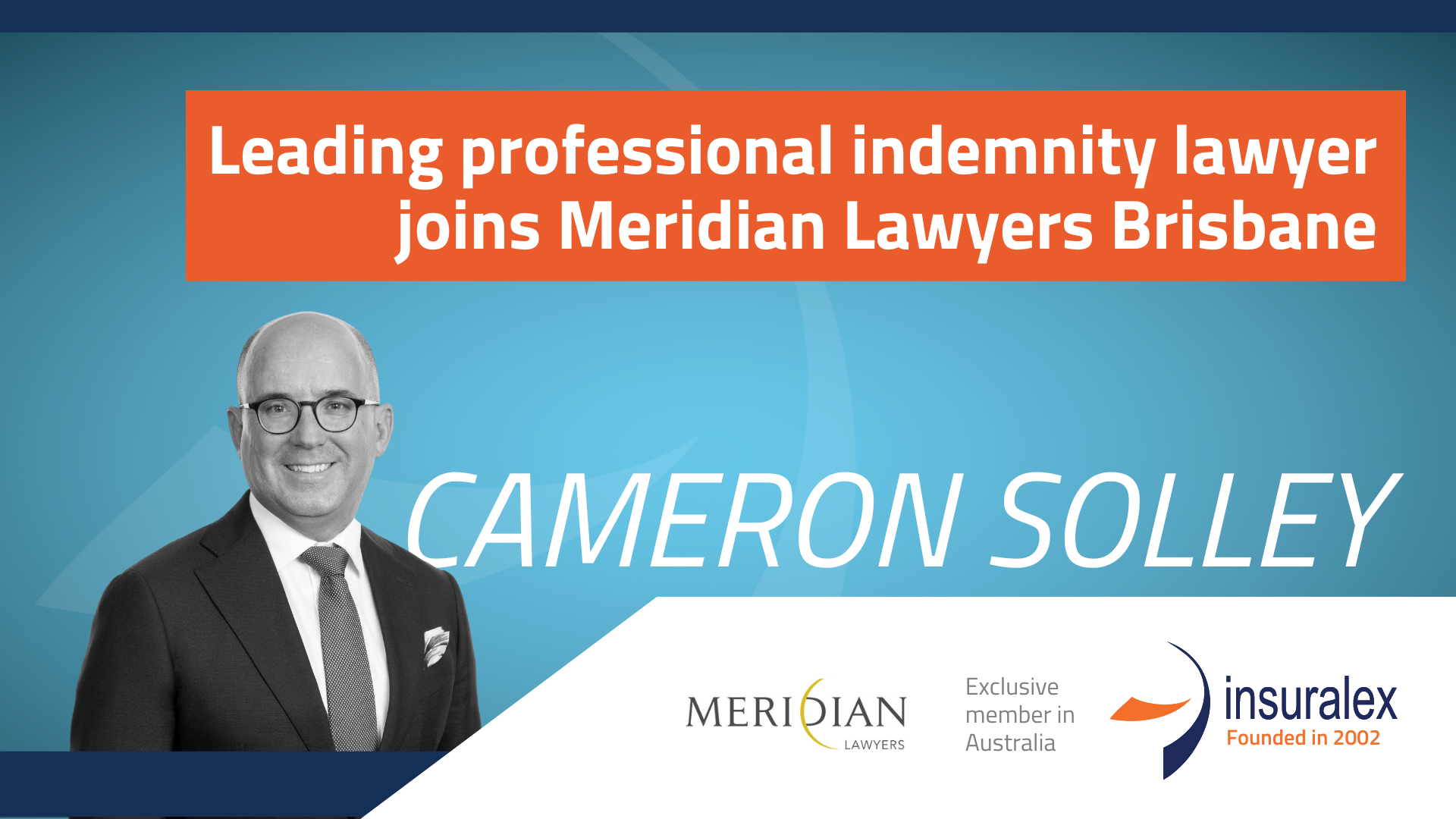 Meridian Lawyers (Insuralex Australia) is delighted to announce an addition to their Principal Group, and national insurance team, with the appointment of leading litigator and professional indemnity lawyer, Cameron Solley.
Recognised for his 20+ years of legal experience in professional risk, public and products liability and personal injury across domestic and international markets, Cameron was most recently a Partner with Thynne & Macartney, practising in the professional indemnity group team.
Cameron has considerable experience responding to professional indemnity and personal injury claims against companies, associations, individuals and government agencies where the allegations may be of breach of professional duties of care and breaches of occupiers' liability.
A skilled negotiator, Cameron's practice includes representing traditional fields such as architects, engineers, lawyers, financial advisers and health care professionals as well as 'newer' professions including migration agents, technology professionals and alternative therapists.
Commenting on the Meridian's newest recruit, Managing Director Paul Baker indicates that: "Cameron's deep experience and skillset in professional indemnity insurance expands on the current capabilities in our Brisbane team. With his background in brokers' negligence and other professional indemnity claims, in addition to his health related experience in the disciplinary area, Cameron's skills complement those of the team in Brisbane and bolster the service offering to our clients on a national basis."
Dennis Cronin, Brisbane Managing Principal, commented: "I am delighted to welcome Cameron to the Brisbane team and our insurance practice. Cameron is an astute and technically proficient lawyer who is a great fit for our business. Cameron's experience and his insights will be of great value to our team, our client base and the business more broadly."
Commenting on his decision to join Meridian, Cameron mentions:
"It's an exciting time to be joining Meridian. I have long admired the high regard in which Meridian is held for its excellence in client service. I am looking forward to being a part of a national insurance team, working alongside the team in Brisbane, and having the opportunity to enhance the service offering to my clients."
About Meridian Lawyers
Meridian Lawyers provides focused legal advice in health and insurance law, corporate and commercial law, workplace relations and safety, and commercial litigation and dispute resolution.
Named Insurance Specialist Firm of the Year in 2020, Meridian has grown significantly since its inception in 2004 and numbers more than 140 staff with 24 Principals in offices located in Sydney, Newcastle, Melbourne, Brisbane and Perth.
Meridian was recently selected as the only Australian law firm to join the exclusive Insuralex Global Insurance Lawyers Group, the world's leading insurance and reinsurance law firm network. As an Insuralex member firm, clients and Insuralex's insurance law firm network have access to Meridian's insurance services and coverage throughout Australia.