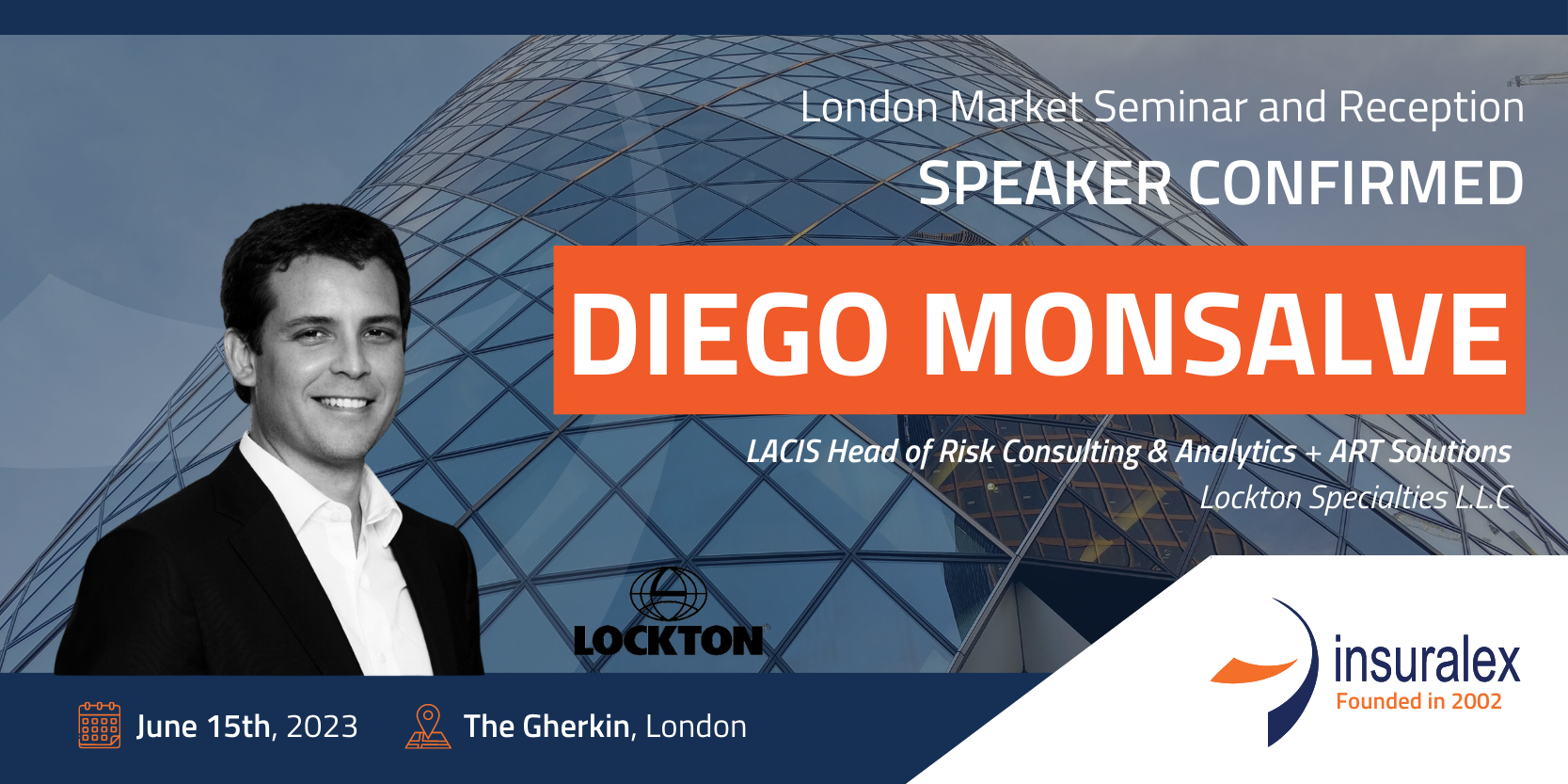 Diego Monsalve (Lockton Specialties) confirms his presence
Save the date! Insuralex´s London insurance market seminar and reception
Diego Monsalve, MBA, CEEM, ISCM/iCAS, LATAM Head of Risk Consulting and Analytics Solutions at Lockton Specialties L.L.C. joins our team of international speakers who will take part in the 2023 Insuralex Global Seminar and Reception being held at the Gherkin on June 15th 2023:
"Innovation and Sustainability in Insurance and Claims"
Climate change, parametric covers, natural disasters, wars, cyber-attacks, pandemic, insurtech, artificial intelligence, claims transformation…
In times of unprecedented change and fast-paced technological advancements, Insuralex' panel will address how this affects you – The Times They Are A-Changin'!
Diego is responsible for running the Risk Consulting and Analytics team for the Latin American and the Caribbean Region to ensure the delivery of outstanding advice and services for our clients.
For over 15 years Diego has been involved in the insurance industry. He started his career in the insurance industry as an underwriter for the largest Peruvian insurance company in Peru, Pacífico Seguros. Then he moved to Boston Massachusetts to be part of the Consulting team at AIR Worldwide, leader company in the Catastrophe modelling arena.
He is an expert in quantify and risk assessment for Natural Catastrophe. In 2016, he started developing Parametric insurance in the Latin American and the Caribbean region, where he was able to make more than 80+ deals in the past 5 years. He is certified Catastrophe Modeler (CEEM) by the AIR Institute and member of the International Society of Catastrophe Managers ISCM/iCAS. Also, he holds a Master of Business Administration from Babson College.
(To allow for attendee participation, registrations are limited. This webinar is aimed at and designed exclusively for insurance and reinsurance professionals, as well as (re)insurance intermediaries. Law firms are only allowed to participate if they belong to Insuralex)
For registrations, please complete the form. (Seats are limited)
More details and more speakers will be posted soon.
To allow for attendee participation, registrations are limited.
(This webinar is aimed at and designed exclusively for insurance and reinsurance professionals, as well as (re)insurance intermediaries. Law firms are only allowed to participate if they belong to Insuralex)
Registration form: