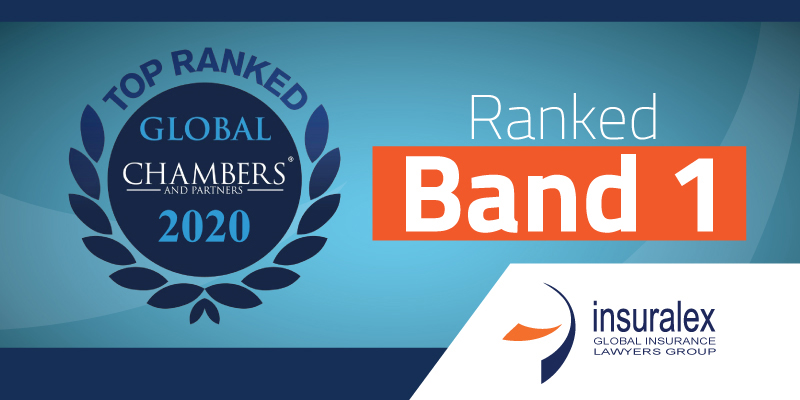 Insuralex has been again ranked Band 1 by Chambers and Partners in 2020. The prestigious British publication Chambers and Partners identifies and ranks the most outstanding law firms and lawyers in over 180 jurisdictions.
Insuralex´s team of lawyers have recognised in-depth understanding of the insurance industry in more than 50 jurisdictions.
Since it was founded in 2002, Insuralex has grown significantly to over 50 individual practices operating within the group across Europe, North America, Latin America, Asia and the Middle East.
A substantial number of Insuralex member firms are ranked in various Chambers publications. Similarly, a substantial number of partners from Insuralex firms are ranked by Chambers as Leading Individuals.
Expertise, efficiency, cost control, responsiveness, local knowledge and flexibility are what the global insurance and reinsurance market demands from lawyers in today's world. In a field as specialised and high value as international insurance and reinsurance, nothing less than the best is cost effective. Members have advised on some of the biggest and most delicate insurance and reinsurance claims and losses of modern times.
Insuralex members work for a diverse range of clients including insurance and reinsurance companies, Lloyd's syndicates, insurance and reinsurance brokers as well as captives and self-insured companies.
According to Chambers and Partners:
"Insuralex is a noteworthy group of independent insurance and reinsurance firms with well-established reputations in their markets and deep expertise in the field. Members work closely together across jurisdictions via referrals and knowledge sharing. The network also hosts regional meetings and conferences for its members encouraging cross-border collaboration"
We invite you to learn more about Insuralex´s Members and about what Chambers says about Insuralex Insurance Law practice here.