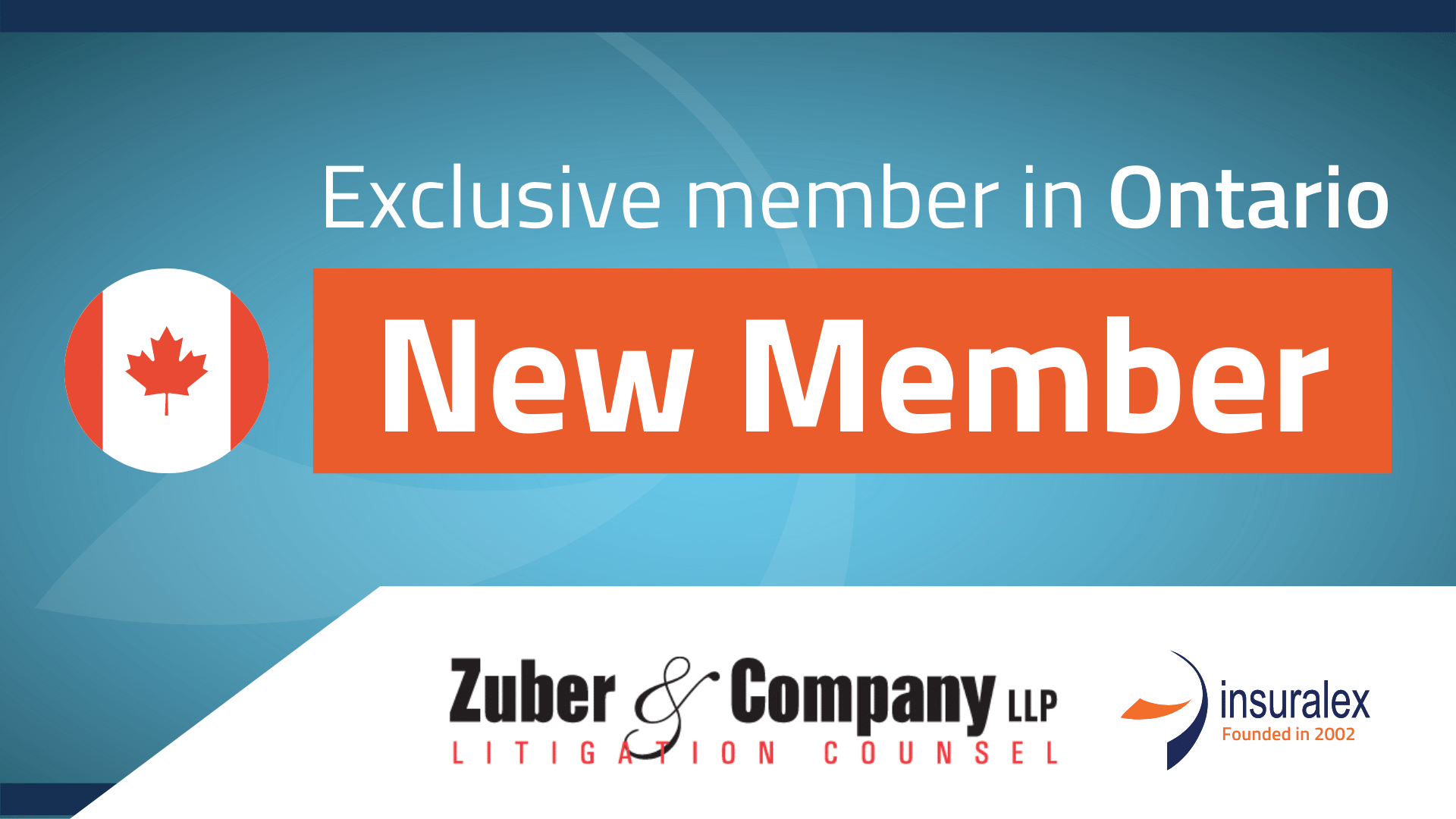 We at Insuralex are very pleased to welcome our new member in Canada.
Zuber & Company LLP is pleased to announce our selection as the Canadian member of Insuralex, the world's leading insurance global network of independent law firms. We are honored to be a part of this elite association of insurance law firms where membership is challenging to obtain and each Insuralex member is considered a leading law firm in their country. Founded two decades ago, Insuralex represents more than 50 independent law firms from Europe, North America, Latin America, Africa, Asia and the Middle East that specialize in Insurance and Reinsurance coverage, defence ligation services and other related legal services.
Our philosophy at Zuber & Company LLP is to offer high quality legal services in a timely and cost-effective manner. We view our relationship with our clients as a partnership every step of the way. We strive to make our clients' goals our priority and to furnish the best possible outcome on every single matter.
Our client base ranges from private individuals to major insurance companies situated across North America. We act on behalf of domestic and international insurers as well self-insured corporations. We are also listed in Best's Directories of Recommended Insurance Attorneys and named in the 2022 Canadian Legal Lexpert Directory in the Leading Practitioners Category. We are members of the Federation of Defence and Corporate Counsel as well as the Association of Defence and Trial Attorneys.
Related to our experience, are the relationships we have developed throughout the years with our longstanding clients and those clients who are more recent. The strength of these relationships is attributable to our ability to respond to the needs of our clients and obtaining the best possible results for them. We are very enthusiastic to be expanding our footprint with Insuralex and look forward to what lies ahead!
Andreas Weinzerl, President at Insuralex commented, "We are excited to welcome Zuber & Company LLP as the newest member of Insuralex. This outstanding firm offers unparalleled experience and local knowledge. Their addition to Insuralex demonstrates our unmatched continuous grow and expansion. Insuralex´s clients can now take advantage of our powerful network from each side of the world, from Canada to Australia"
About Insuralex
Founded in 2002, Insuralex (Trusted International Legal Advisors for (Re) Insurance) is a group created by more than 50 independent law firms from Europe, North America, Latin America, Africa, Asia and the Middle East that specialise in Insurance and Reinsurance coverage, defence, litigation and all other related legal services.
Globalisation and changes in the world wide Insurance market enable Insurers and Reinsurers to market their products across national borders in a growing global economy. Different local laws and procedures may affect the conduct of insurance business on a cross-border basis and this is evident in the handling of international or multinational claims.
An Insurer can navigate these complexities by using a group of lawyers from different jurisdictions who are each specialised in their respective national insurance and reinsurance law systems but who are also affiliated to work with each other.
Insuralex exists to provide its members with a world-wide referral network of the highest quality in the fields of insurance, reinsurance, coverage, defense and litigation.
Insuralex works for a wide range of clients including insurance and reinsurance companies, Lloyd's syndicates, insurance and reinsurance brokers as well as captives and self-insured companies.
Insuralex is an elite grouping of insurance law firms and gaining membership is difficult. Each member of Insuralex is considered to be a leading practice in this specialist field within its national jurisdiction.
Insuralex is known for the outstanding quality of its member firms and has been recognized as such year after year by the Chambers & Partners Guide. Insuralex is the only insurance focused international network ranked in Global Chambers as a Leading Law Firm Network.