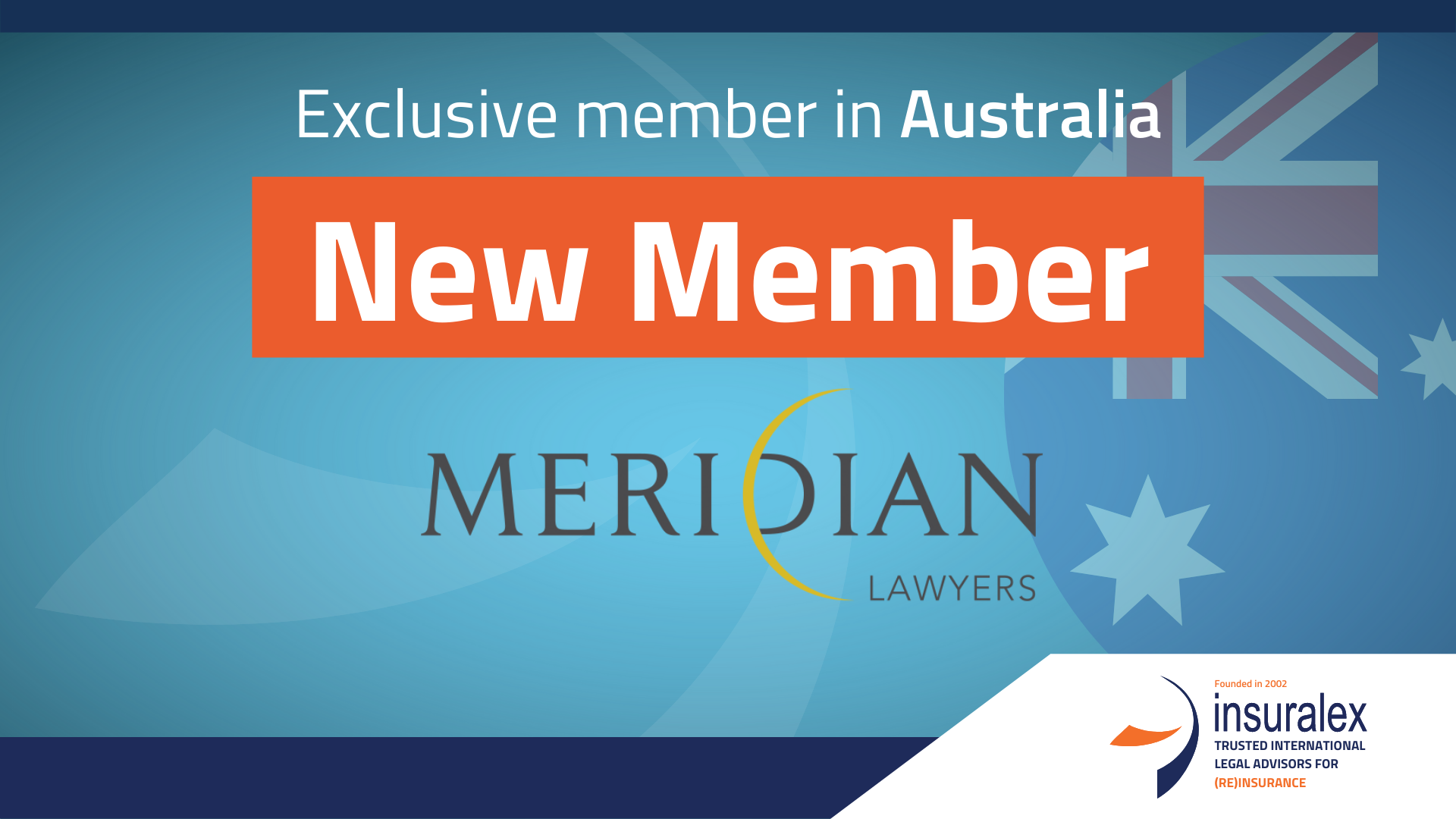 Meridian Lawyers selected by Insuralex as its exclusive member in Australia
Meridian Lawyers is delighted to announce its selection as the sole appointed Australian based law firm to the exclusive Insuralex Global Insurance Lawyers Group, the world's leading insurance and reinsurance law firm network.
As an Insuralex member firm, clients and Insuralex's insurance law firm network will have access to Meridian's insurance services and coverage throughout Australia.
Paul Baker, Meridian's Managing Director, said: "Meridian Lawyers is thrilled to have been identified as a leading Australian insurance law firm and to be selected to join the Insuralex network. We look forward to working with member firms to strengthen their position and profile in the Australian market. This appointment will enhance our ability to provide legal services to our clients beyond Australia and strengthen our reach to overseas insurance industry organisations. We are honoured to be a part of the future growth of the network."
"Andreas Weinzierl, Insuralex´s President commented: Meridian Lawyers is well-known and highly respected across the industry, not only for its insurance expertise in Australia but for its genuine team passion and commitment to delivering high standards of client service. Insuralex´s clients can now take advantage of our powerful network from each side of the world, from California to Australia"

About Meridian Lawyers
Established in 2004, Meridian Lawyers provides focused legal advice in insurance law, health law, corporate and commercial law, workplace relations and safety, commercial litigation and dispute resolution.
Our insurance practice is recognised as one of the leading practices in Australia. We are privileged to count both overseas and locally based insurers, underwriters and TPAs as our clients. We have core insurance services in all our offices. As one of the leading insurance litigation practices, we have access to valuable information regarding trends occurring in the market, and have strong relationships with leaders, influencers and companies in the insurance landscape. We also act for other self-insured clients or insureds with significant deductibles.
We have a detailed understanding of the nuances to manage and mitigate risks. Working in close collaboration with our clients we develop strategies to ensure potential risks are averted and claims are managed.
Our growing corporate and commercial practice has a proven track record in providing pragmatic and cost-effective commercial legal advice to boards, executives, corporate counsel, public and private companies, SMEs, multinational companies, professional membership organisations, peak health industry bodies, private clients, not-for-profit organisations and government entities and departments. We provide transactional, corporate advisory and regulatory advice across the full range of corporate activities including mergers and acquisitions, due diligence, joint ventures and strategic alliances, competition and consumer law, financial and capital markets, corporate governance, franchising and distribution. Our expertise extends to negotiating and documenting commercial transactions, providing general commercial legal advice across the full spectrum of commercial transactions and regulatory guidance on governance and corporations law requirements. Read more here
About Insuralex
Founded twenty years ago, in 2002, Insuralex is a group created by more than 50 independent law firms that specialise in Insurance and Reinsurance coverage, defence, litigation and all other related legal services.
Insuralex works for a wide range of clients including insurance and reinsurance companies, Lloyd's syndicates, insurance and reinsurance brokers as well as captives and self-insured companies.
Each member of Insuralex is considered to be a leading practice in this specialist field within its national jurisdiction.
Further details about Insuralex is available here