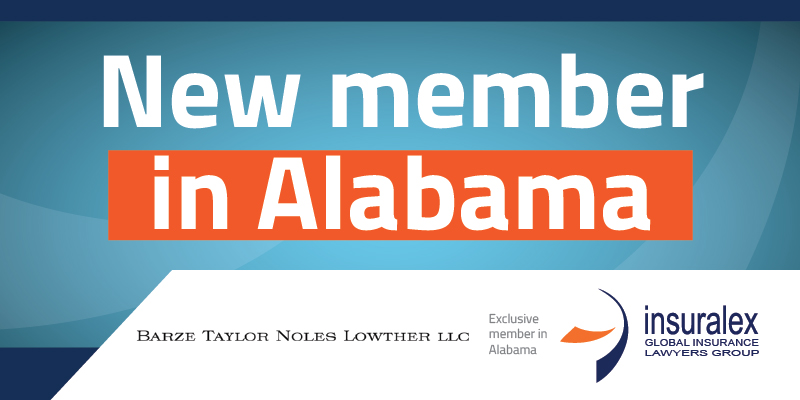 Barze Taylor Noles Lowther LLC (BTNL), a top-ranked law firm and a provider of legal services in the area of insurance law and related litigation, announced that it has become the exclusive member firm in Alabama for the Insuralex Global Insurance Lawyers Group, the world's leading insurance and reinsurance law firm network.
As part of Insuralex, clients and Insuralex´s insurance law firms will have access to BTNL's recognised insurance and reinsurance coverage and litigation practices in Alabama.
Insuralex is a worldwide association of independent insurance and reinsurance lawyers exclusively focused on the insurance and risk management communities. Insuralex is ranked in Global Chambers as a leading law firm network.
BTNL lawyers daily represent clients with respect to their coverage matters and risk management, ranging from coverage opinions and analyses to all types of coverage litigation. Its lawyers have tried coverage cases to judges, juries, and arbitrators on subjects including contingent business interruption coverage, general liability, Directors and Officers liability, indemnity cost recovery, and extracontractual litigation. BTNL lawyers also have sought coverage determinations under the National Flood Insurance Program and handled catastrophic loss claims resulting from natural disasters. BTNL proudly and regularly represents syndicates and insurers in the London market, as well as other European insurers.
Lawyers in BTNL have been recognized by their peers in The Best Lawyers in America, Chambers USA, Mid-South Super Lawyers, Benchmark Litigation, and other, similar publications. Specifically, our partners are recognized in The Best Lawyers in America in the field of Insurance and BTNL is one of only two Alabama law firms with an attorney selected as a Fellow in the American College of Coverage Counsel, the preeminent association of U.S. and Canadian lawyers who represent the interests of insurers and policyholders. U.S. News and Best Lawyers have recognized BTNL as one of their "2019 Best Law Firms" and BTNL is listed as a "Highly Recommended" firm by Benchmark Litigation.
Neftalí Garro, Insuralex´s President commented: "We are very excited to have Barze Taylor Noles Lowther (BTNL) as part of the Insuralex family. Their wealth of experience and expertise in the field of insurance law strengthens our position in the U.S. and in the Alabama market."
Bruce Barze, Jr., the senior partner of BTNL, said: "BTNL is delighted to be part of Insuralex. We look forward to collaborating with our network colleagues across the world and to continued growth of this vibrant organization."
Barze Taylor Noles Lowther LLC is a Birmingham, Alabama-based law firm with a practice focused on litigation, insurance coverage issues, and environmental matters. For more information, visit www.btnllaw.com or follow @BTNL_law_firm.