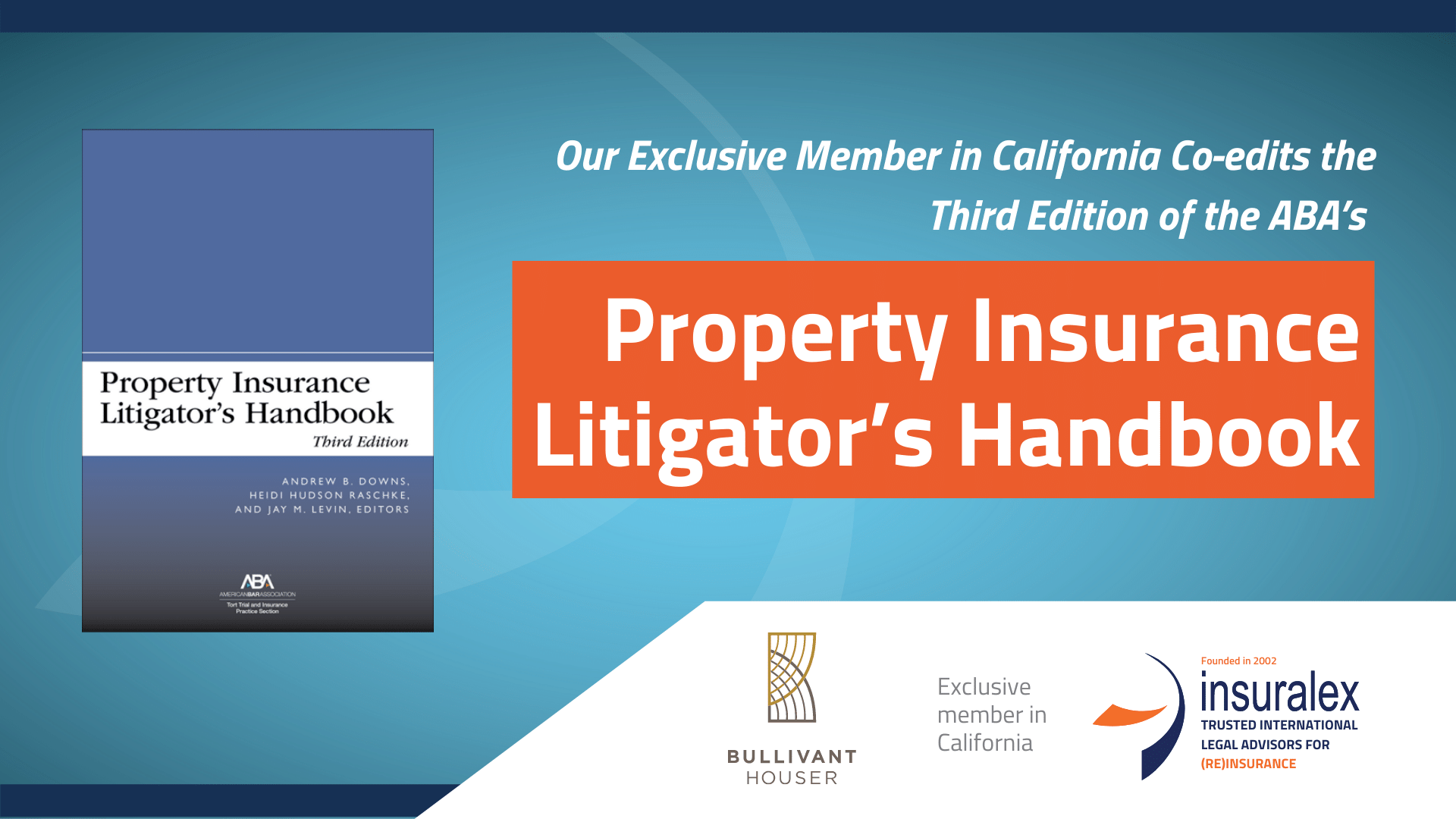 Our Exclusive Member in California Co-edits the Third Edition of the ABA's Property Insurance Litigator's Handbook
Bullivant Houser Shareholder Andy Downs is one of the three co-editors of the third edition of the Property Insurance Litigator's Handbook published by the ABA's Tort, Trial & Insurance Practice Section. He was also a co-editor of the first (2007) and second (2012) editions.
This book is the work of many authors, both insurer-side lawyers and policyholder lawyers stretching back to the first edition published in 2007. "I am very proud of Bullivant attorneys Andy Downs, Dan Bentson, Sam Ruby, and Richard Williams who have dedicated their time and contributed their expertise for this and past editions of the Property Insurance Litigator's Handbook," said Loren Podwill, Bullivant Houser President and Vice-Chair of TIPS.
This third edition of Property Insurance Litigator's Handbook focuses on the fundamentals of how first-party property claims are litigated. The book begins with an overview of property insurance and a discussion of things that occur on a claim before the litigator receives the file. Then, the writers detail the process of drafting complaints, preparing answers and affirmative defenses, propounding discovery, seeking summary dismissal or judgment, and preparing for trial. The book concludes with a discussion of trial strategy and appeal. Throughout, readers will find useful checklists and other helpful practice aids. This updated edition features updated tables of authority, checklists, sample forms, letters, pleadings, and discussions.
The book is available for purchase here.
About Bullivant Houser
Bullivant Houser represents clients nationwide who rely upon our success as trial lawyers, our practical business advice, and our expertise in insurance coverage. While we practice out of offices in the western U.S., our reputation is respected nationally, where we have managed client needs across many jurisdictions. Our clients tell us that our legal talents are matched by the service we provide them.
https://www.bullivant.com/andy-downs-co-edits-the-third-edition-of-the-abas-property-insurance-litigators-handbook/