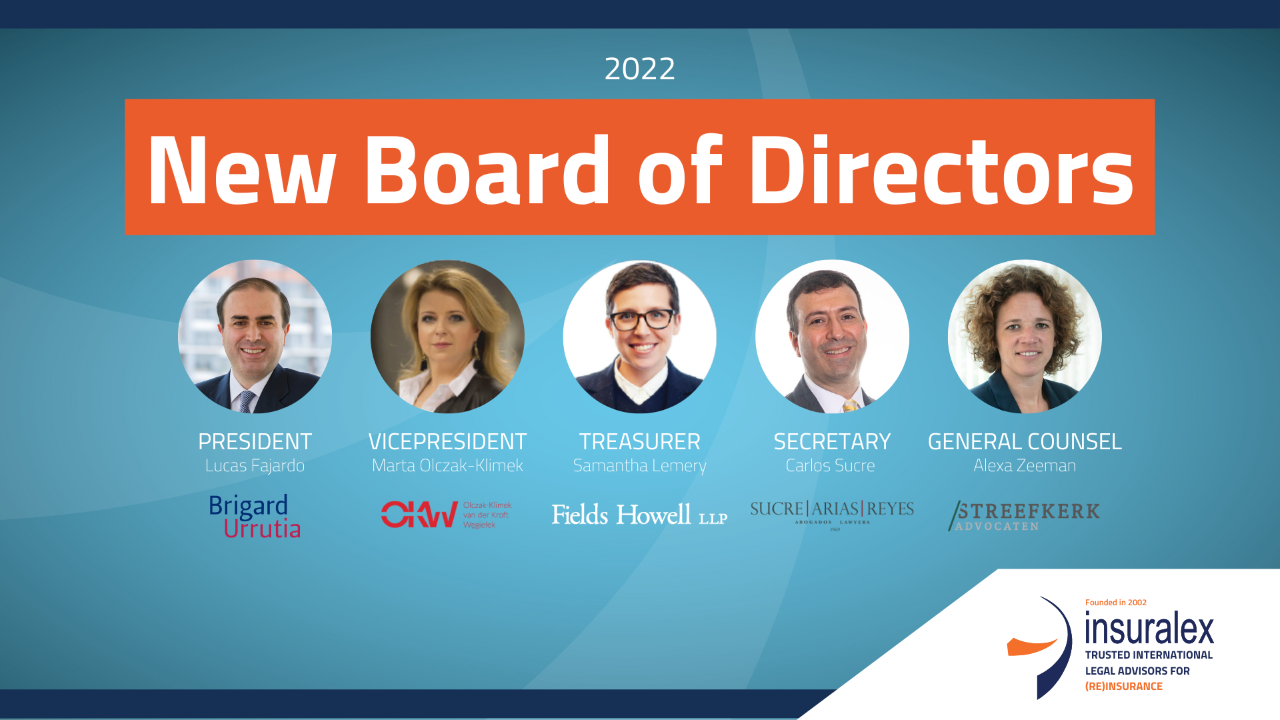 Insuralex is pleased to announce that Lucas Fajardo, Director of Brigard Urrutia, was recently designated as president of Insuralex, during its annual meeting held in Chicago on July 1st.
Lucas Fajardo has wide experience advising major players in the local and international insurance and reinsurance sector in handling national and cross-border insurance claims and complex transactions carried out before the Colombian insurance supervisor. He also has solid academic experience having been a professor of insurance law in several universities in Colombia.
The new board of directors for the 2022-2023 term includes:
President: Lucas Fajardo (Colombia) – Brigard Urrutia.
Vice President: Marta Olczak-Klimek (Poland) – Olczak-Klimek van der Kroft Wegiełek.
Treasurer: Samantha Lemery (Atlanta, US) – Fields Howell LLP.
Secretary: Carlos Sucre (Panama) – Sucre | Arias | Reyes.
General Counsel: Alexa Zeeman (Netherlands) – Streefkerk Advocaten.
"I like to thank our immediate past-president, Andreas Weinzierl from Tramposch & Partner, for his effective service as president of Insuralex over the past year. His outstanding leadership during the last year has been invaluable to Insuralex. I am honored to have the opportunity to follow him as president. We at Insuralex continue our philosophy of being present whenever and wherever we are needed, providing excellent legal services for our clients" said Lucas Fajardo, Director of Brigard Urrutia.
About Insuralex:
Founded in 2002, Insuralex is a worldwide network with more than 50 independent law firms that specialize in insurance and reinsurance coverage, defense, litigation, regulatory and corporate matters, and related legal services. Its members work for a wide range of clients including insurance and reinsurance companies, Lloyd's syndicates, insurance, and reinsurance brokers as well as captives and self-insured companies. Each member firm of Insuralex is a leader in its national or state jurisdiction on issues related to insurance and reinsurance.
Insuralex is particularly recognized in complex claims that require a high specialization and that have an international component that requires specialized knowledge in diverse jurisdictions. Its members are also recognized for providing legal advice to the insurance industry on corporate and regulatory matters.
With 20 years of continuous growth, Insuralex has become the world's leading insurance and reinsurance network with a highly recognized recommendation from our partners and clients within the insurance and reinsurance industry.
"After including new members from Australia, Guatemala, Ontario, Tennessee, Texas, and Washington, our plan is to continue our growth to include other high-quality law firms worldwide, to promote our vision of proactivity in the insurance and reinsurance markets, and to continue to develop long-term relationships with our clients," said Lucas Fajardo, Director of Brigard Urrutia.