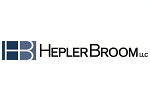 HeplerBroom, LLC
Email: rhammond@heplerbroom.comPhone: (312) 205-7743Website: https://www.heplerbroom.comAddress: 30 North LaSalle, Suite 2900 Chicago, 60602Country: UNITED STATES
HeplerBroom LLC (HB) is one of the oldest and largest law firms in Illinois. HB traces its history to 1894 in Edwardsville (Madison County), Illinois. The Firm has a substantial trial practice in federal and state courts throughout the United States, particularly in Illinois, Missouri, Indiana, and Wisconsin. We also have corporate and probate practices in both Illinois and Missouri.
LOCATIONS
- Our Madison County office (across the street from the courthouse in Edwardsville) serves central and southern Illinois.
- Our St. Louis office (located downtown near the City Courts Building and the Federal Courthouse) serves all of Missouri.
- Our Chicago office (near the Daley Center) serves Cook County, northern Illinois, Indiana, and Wisconsin.
- Our Springfield office serves all of central Illinois.
- Our Crystal Lake office serves the Cook collar counties (including McHenry County) and northwestern Illinois.
- Our Hammond office serves all of central and northwest Indiana.
A TEAM OF EXPERT ATTORNEYS
Outside of the facts of the case, the most important ingredient in the successful resolution of a lawsuit, either by way of settlement or trial, is a law firm and trial attorney who have the ability, energy, and willingness to take a case to verdict. And when you have HeplerBroom on your side, that is exactly what you get. It is one of the ways we have earned our reputation as an aggressive and successful defense trial law firm. Our people are our most important resource. At HeplerBroom, we are committed to the professional growth of all the Firm's attorneys. That is one of the major reasons we have been able to retain experienced, knowledgeable, and skillful attorneys to represent our clients. Throughout the years, the Firm has recruited and trained the best legal talent available. Many attorneys who join the Firm have worked with us during the summer following their second year of law school. HB also has an ongoing in-house university that provides frequent training seminars on relevant legal issues and strategies. (We are often requested to do these training sessions for our clients.)
In addition to an active recruiting program, we have spent the last several years investing in and training our personnel in the use of state-of-the-art computer technology. We are proud of our staff of professionals, not only because they are creative and aggressive, but also because they share the Firm's objective of using all available resources, including the latest advances in computer technology and communications, to ensure we provide the best legal service possible. Our lawyers routinely write topical articles for regional and national legal publications and are frequently asked to speak at both law and industry trade groups.