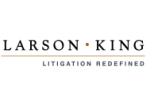 Larson ⋅ King, LLP
Phone:
Toll-free: 1-877-373-5501
Website:
http://www.larsonking.com
Address:
30 East Seventh Street, Suite 2800, Saint Paul, MN 55101
Country:
UNITED STATES
Litigation Redefined.
Larson ⋅ King specializes in litigation. Our firm provides senior level trial experience in complex insurance law, class action and mass torts, employment and all areas of commercial litigation. Our attorneys have tried hundreds of cases to verdict, representing clients on a national scale. We are not a firm with many practice areas of which litigation just happens to be one.
We offer deep trial experience, innovative practice and an unswerving focus on client objectives. The firm's reputation attracts extremely talented attorneys who are committed to providing top-notch service and results. Our flexible, un-layered culture allows attorneys to do their best work and provide exceptional client service. National Expertise. Larson • King offers maximum legal advantage by delivering high quality services through a nimble and cost-effective team. With both defense and plaintiff experience, Larson • King provides clients a unique and valuable perspective: an inside view of the opposition. As a nationally recognized firm with an enviable track record of success, Larson • King gives clients an edge both inside and outside of the courtroom. With the resources to handle long, complex bet-the-company litigation in virtually any U.S. jurisdiction, Larson • King stands ready to take a case to the highest court when needed. There are times when this fact alone can deter the opposition.
Our Practice Areas
Agricultural Law Appellate Practice Business Litigation Catastrophic Personal Injury Class Action & Mass Tort Construction Litigation Cyber Risk Management and Cyber Liability Environmental Litigation Financial Services Litigation Health Law Immigration Law Insurance Intellectual Property & Technology Labor & Employment Mortgage Lending & Servicing Litigation Products Liability Professional Liability Reinsurance