Estudio Carvallo Abogados Limitada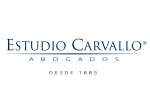 Estudio Carvallo Abogados Limitada
Email: mcarvallo@carvallo.clPhone: +56 2 2676 9355Website: http://www.carvallo.clAddress: Coyancura 2283, piso 11, Providencia. Santiago de ChileCountry: CHILE
Since 1885, Estudio Carvallo has been developing specialized professional services within its areas of expertise. We have focused in providing our clients with effective and innovative solutions based upon teamwork, strategic thinking and practice.
Most of our work is insurance related, covering most aspects of the field, including Insurance litigation, coverage analysis, reinsurance, design of new insurance products and corporate services.
Our firm has been recognized by our clients and highlighted by Chambers & Partners and Legal 500 company directories.
Estudio Carvallo Abogados Limitada
Contact
M. Carvallo mcarvallo@carvallo.cl

Contact Estudio Carvallo Abogados Limitada