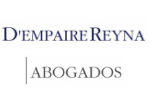 D'Empaire Reyna Abogados
Email: iparra@dra.com.vePhone: +58 212 2646244Fax: +58 212 2647543Website: http://www.dra.com.veAddress: Edificio Bancaracas. P.H. Plaza la castellana, Caracas 1060.Country: VENEZUELA
D'Empaire Reyna Abogados is one of the top tier Venezuelan law firms. We enjoy a reputation as the leading M&A, securities, finance, insurance, tax and competition law firm in Venezuela. In addition, D'Empaire has strong energy, arbitration, litigation, labor and environmental practices. We are the law firm of choice for complex matters in all sectors of the economy and fields of law.
Chambers and Partners awarded D'Empaire with the distinction of Venezuelan Law Firm of 2009, 2010, 2012, 2015 and 2016 in the first, second, fourth, seventh and eight edition of its Latin America Awards for Excellence. In 2011 and 2014, D'Empaire was recognized by Chambers Latin America with the "Client Service Award", together with six distinguished Latin American law firms. D'Empaire was the first Venezuelan law firm to receive this award. In 2013, D'Empaire's managing partner Fulvio Italiani was honored with an award for "Outstanding Contribution to the Legal Profession" at the Chambers Latin America Awards for Excellence.
In 2014, D'Empaire was awarded "Venezuelan Tax Firm of 2014" by International Tax Review (ITR). D'Empaire is also considered by LATINLAWYER 250 - Latin America's leading business law firms as a Corporate Powerhouse. D'Empaire is ranked as leading law firm by PLC Which Lawyer Venezuela in several areas, including competition, labor and tax. Three of our partners were considered as "top Venezuelan lawyers under 40" by Latin Lawyer.
D'Empaire was founded in 1972 and comprises approximately 42 lawyers.
Contact
Ines Parra iparra@dra.com.ve
Fulvio Italiani fitaliani@dra.com.ve

Contact D'Empaire Reyna Abogados