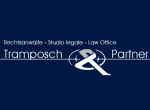 Tramposch & Partner
Email: office-vienna@tramposch-partner.comPhone: + 43 / 1 / 71 88888Fax: + 43 / 1 / 71 88887Website: http://www.tramposch-partner.comAddress: Untere Viaduktgasse 47-49/13, 1030 ViennaCountry: AUSTRIA
Tramposch & Partner operates a boutique law firm in Austria with offices in Innsbruck, Vienna and Eisenstadt, offering legal consultation and representation all over Austria.
Our service philosophy is based on:
Best legal expertise
Prompt processing
Optimal customer satisfaction
The three offices enable Tramposch & Partner to provide legal services and litigation before Austrian courts and administrative bodies throughout the country. Currently, about half of the insurance work is done for Austrian insurance companies, while the other half is done for insurers from abroad.
The practice areas in which our firm offers expertise include:
Administrative Law - Public Law
Alternative Dispute Resolution
Compensation and Warranty Law
Corporate Law
Credit / Leasing
Data Protection Act
Debt Collection
Fee Revision
Insurance Law
Labour Law
Legal Services for Insurers
Litigation
Product Liability
Real Estate Law
Recourse
Ski, Sport and Leisure Accidents
Traffic Accidents

Senior Partners of our practice
Dr. Hubert Tramposch - Senior Partner and CEO, Office Innsbruck
Mag. Christian Seidl - Managing Partner, Office Eisenstadt
Dr. Andreas Weinzierl - Managing Partner, Office Vienna
Contact details Innsbruck & Eisenstadt
Tramposch & Partner Innsbruck
Franz Fischer Straße 17A
6020 Innsbruck
Austria
Phone: + 43 / 512 / 57 17 57
E-mail: office-innsbruck@tramposch-partner.com
Tramposch & Partner Eisenstadt
Thomas - A. - Edison - Straße 1
7000 Eisenstadt
Austria
Phone: + 43 / 2682 / 62 1 63-0
E-mail: office-eisenstadt@tramposch-partner.com
Contact Tramposch & Partner