Mazanec, Raskin & Ryder Co.,LPA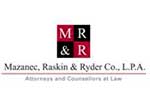 Mazanec, Raskin & Ryder Co.,LPA
Email: traskin@mrrlaw.comPhone: 440.248.7906Fax: 440.248.8861Website: http://www.mrrlaw.com/Address: 100 Franklin's Row, 34305 Solon Road Cleveland, OH 44139Country: UNITED STATES
Mazanec, Raskin and Ryder Co., L.P.A. (MRR) offers a comprehensive array of practice group services to a broad range of clients on both a regional and national basis. MRR is one of the premier Ohio civil rights and municipal defense firms. We have been named a Tier 1 Best Law Firm by U.S. News & World Report since 2011.
Started by three former insurance claims professionals in 1980 who identified the industry's true needs and were committed to building a firm with exceptional service, MRR focuses on the client with a keen eye to serve their needs in the most cost-effective manner possible. Now, more than 30 years later, MRR continues to provide outstanding legal representation in virtually all types of litigated matters affecting insurers and their insureds, the business community and public entities before all state and federal courts. Our insurance coverage practice concentrates on providing exceptional service when delivering early and successful results on claims, coverage analysis and monitoring, audits and program reviews, policy drafting, risk analysis, insurance industry appeals, and general liability issues. Additionally, MRR also counsels businesses, individuals and public entities on a wide variety of matters including business formation, estate planning, probate, labor matters and legislation, risk management, and professional liability and licensing.
With more than 30 attorneys and offices in Cleveland, Ohio and Columbus, Ohio, MRR is a mid-sized law firm structured around practice groups specifically designed to efficiently and successfully handle our clients' needs with legal agility, creativity and experience.
Contact Mazanec, Raskin & Ryder Co.,LPA