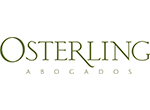 Osterling Abogados
Email: eferrando@osterlingfirm.comPhone: +511 611 8282 Fax: +511 611 8284Website: http://www.osterlingfirm.com/Address: Av. Santo Toribio 143, Piso 3. San Isidro, Lima 27, PerúCountry: PERU
Osterling Abogados was established in 1980 by a group of well-known lawyers of remarkable experience. It is recognized for providing consistently quality service in all areas of practice. This full service law firm has a wide experience representing prestigious local and foreign clients. The firm's goal is to maintain client satisfaction with timely, practical and business oriented legal advice. The firm is uncompromising in its commitment to quality in everything it does and is focused on creating sustainable value for its clients, people and communities.
Main Areas Of Practice
OSTERLING ABOGADOS is a full service firm energetically committed to providing its clients with advice and expertise of the highest quality. More than three decades of continued achievements have turned us into a preeminent name in the Peruvian business and legal communities.
Insurance & Reinsurance
Arbitration

Contracts and Civil Law
Construction
Corporate/M&A
Litigation
Finance & Bankruptcy
Public Law
Labour, Human Resources and Social Security
Dispute Resolution – Arbitration & Litigation
Intellectual Property, Competition and Consumer Protection & Advertisement
Mining, Natural Resources, Environmental
Tax & Customs
Osterling has an excellent client list that includes industry-leading companies, major financial institutions and global corporations.
Languages: English, German, Portuguese & Spanish
Contact Osterling Abogados