Foliart, Huff, Ottaway and Bottom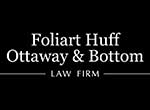 Foliart, Huff, Ottaway and Bottom
Email: foliartfirm@oklahomacounsel.comPhone: +1 405 232 4633Fax: +1 405 232 3462Website: http://www.oklahomacounsel.com/Address: 201 Robert S. Kerr Avenue, 12th Floor, Oklahoma City, Oklahoma 73102Country: UNITED STATES
Since our founding in 1949, Foliart Huff Ottaway & Bottom has prepared and tried civil cases in all Oklahoma federal and state courts. Members of the firm have tried cases in Texas, California, New York, Colorado, Idaho, Kansas, and Arkansas. Our attorneys are licensed in Oklahoma, Texas, Arkansas and Indiana. Throughout its over 60-year history, the senior members of the firm have gained comprehensive and extensive experience preparing and trying a wide range of civil cases and have taken hundreds of cases to successful verdicts.
In addition to trial and appellate work, our attorneys provide legal consulting services to national, regional, and local businesses, including health care providers, product and pharmaceutical manufacturers, oilfield service companies, and insurers. We present seminars, develop corporate policies and procedures, and assist with contract negotiations and employment issues.
We utilize technology to prepare and present cases in the most persuasive and cost-efficient manner. We have in-house capabilities to conduct depositions using the latest Internet technology and in-firm editing of video trial testimony. These abilities assist us in the presentation at trial of complex cases in the areas of arbitration/mediation, commercial litigation, health care, labor and employment, insurance, medical/ professional negligence, all kinds of motor vehicle accidents, negligence, personal injury, wrongful death, and trucking and transportation.
Contact Foliart, Huff, Ottaway and Bottom