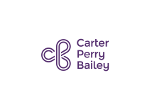 Carter Perry Bailey
Email: bill.perry@cpblaw.comPhone: +44 20 3697 1901 Fax: +44 20 3697 1911Website: http://www.cpblaw.comAddress: 10 Lloyd's Avenue - EC3N 3AJ - LondonCountry: UNITED KINGDOM
Based in the heart of the London insurance and reinsurance marketplace, Carter Perry Bailey was formed in May 2009. Its Partners, each with many years experience of insurance and reinsurance business at major City law firms, recognised that their clients' interests and specific needs would be best served by a niche, specialist practice. The firm's expertise, experience and flexibility enables it to implement its simple philosophy – to provide a personal service, working as part of its clients' team to achieve the clients' business goals speedily and cost effectively.
Carter Perry Bailey provides a full range of services to the London and international insurance and reinsurance markets, including:
Insurance claims and coverage
Reinsurance claims and coverage
Professional liability and D&O claims and coverage
Litigation, arbitration and mediation
Insurance policy and reinsurance contract drafting and advice
Agency and broking agreements drafting and advice
Regulatory advice
Run-off and finality, including schemes of arrangement
Transactional work and transfers of business
Carter Perry Bailey's lawyers are accustomed to acting in international matters, whether it be international arbitration, multi-jurisdictional litigation or cross-border transactions. Reinsurance has always been an international business but just as companies, business and commerce are becoming increasingly global, so we have also seen increasing globalisation of original risk. Carter Perry Bailey's lawyers are used to working with international clients and overseas lawyers on international issues.
Contact Carter Perry Bailey