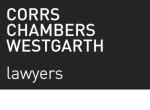 Corrs Chambers Westgarth
Email: Daniel.Marquet@corrs.com.auPhone: +61 3 9672 3506Website: http://www.corrs.com.au/Address: GPO Box 9925 Melbourne VIC 3001Country: AUSTRALIA
Corrs Chambers Westgarth is a world class law firm committed to driving Australia's competitiveness and its economic engagement with Asia.
We advise major organisations on the matters most important to them, bridging the gap between business issues and legal practice.
With offices in Sydney, Melbourne, Brisbane, and Perth as well as strong partnering relationships globally and throughout the Asia Pacific region, we are ideally placed to support clients whose businesses extend internationally and nationally.
Our lawyers work across geographic boundaries and practice areas to help our clients achieve their strategic business goals. We have the resources necessary to serve our clients' needs, no matter how large the transaction or complex the issue. We are consistently involved in the highest profile work in the Asia Pacific region and in Australia.
Corrs lawyers are considered to be world class in their fields. We are proud of our reputation for developing talent to deliver legal and commercial excellence.
Corrs is guided by important values, which help us focus on what is essential for success. They help us create an energetic and exciting environment in which our people are motivated and challenged to do their best. We like to think of Corrs as a place with open doors, where any person can feel free to ask questions or talk through an issue. We have a range of policies that guide the way we work together, with our clients and in the community.
Our commitment to engaging our staff and providing them with the opportunity to build successful careers has made us a much sought-after employer. We have received 10 employer of choice awards in the past four years, and are the only large national law firm to be awarded ALB Gold Employer of Choice 2012, for the second year in a row – as voted by our staff in an independent national survey. We have a strong history spanning more than 150 years. Our Chief Executive Officer of Corrs is John W.H. Denton and our Chairperson is Teresa Handicott.
SYDNEY
GPO Box 9925 Sydney NSW 2001
Phone: +61 2 9210 6500
MELBOURNE
GPO Box 9925 Melbourne VIC 3001
Phone: +61 3 9672 3000
BRISBANE
GPO Box 9925 Brisbane QLD 4001
Phone: +61 7 3228 9333
PERTH
GPO Box 9925 Perth WA 6001
Phone: +61 8 9460 1666
Contact Corrs Chambers Westgarth