Jáuregui y Del Valle, S.C.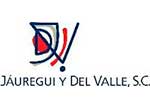 Jáuregui y Del Valle, S.C.
Email: lbalderas@jaureguiydelvalle.comPhone: +52 55 5267 4500Fax: +52 55 5267 4598Website: http://www.jaureguiydelvalle.com/Address: Torre Arcos Bosques I, Paseo de los Tamarindos No.400-B Pisos 8 y 9, Bosques de las Lomas, 05120 México, D.F.Country: MEXICO
Jáuregui y Del Valle, S.C. was founded in 1975. It is the result of the merger between Jáuregui y Navarrete, S.C. and Del Valle Torres, S.C and one of Mexico's foremost multidisciplinary law firms specialized in international business transactions. The Firm is a leading practitioner in the areas of mergers & acquisitions, tax and taxation, finance, banking, securities, insurance, reinsurance, antitrust, energy, oil and gas, telecommunications, project finance, infrastructure, equity investments, joint ventures, corporate governance, privatizations, real estate, corporate reorganizations, international trade (including AD/CVD investigations), intellectual property, labor matters, healthcare, restructurings and workouts, transportation, Public Private Partnerships, commercial arbitration, regulatory, commercial and civil litigation and environmental law. The Firm consists of eight partners, five of counsel and over twenty five associates and five pre-graduate associates which make it one of the leading law firms in México.
The Firm represents domestic and foreign clients involved in a wide range of joint ventures, investments and economic activities, including industry, trade and services. The Firm has consistently implemented innovative transactions and is a market leader in advising highly-regulated entities and in structuring foreign equity investments in those companies. The Firm is also a major provider of legal services in all kinds of financings, privatizations of government-owned companies of all types and of public services, and in advising and assisting clients in all steps of qualifications for public bid processes and negotiations of procurement, services, infrastructure and other kinds of agreements with government entities. The Firm has also advised foreign governmental entities, including the US Department of Commerce in connection with the negotiation of various Chapters of NAFTA, the US Department of the Treasury in the USD$20 billion emergency financial package for Mexico in 1995 and the Securities and Exchange Commission of the United States of America, and represented the Ministry of Education and the Ministry of Health of Mexico in the design and launch of two of the initial three public private partnerships programs in Mexico. Clients' needs have required the Firm to establish working relationships with a number of law firms in the majority of the most relevant markets around the world.
The Firm is a leader in advising its clients on the functional aspects of insurance operations and is experienced in dealing with administrative authorities such as the Ministry of the Treasury and of Public Credit, the Ministry of Health, the National Insurance and Bonding Commission, the National Commission for the Defense of Users of Financial Services, the National Commission of Foreign Investments and the National Antitrust Commission.
The Firm's past experience includes the development of a number of new insurance products in Mexico for the main insurance companies established in Mexico, including credit-life and credit-property insurance products for retail financing, policies for directors and officers liability, environmental coverage, financial institutions liability, malicious contaminants, K&R as well as annuities and a variety of financial products.
Contact Jáuregui y Del Valle, S.C.