Kissel Hirsch & Wilmer LLP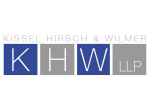 Kissel Hirsch & Wilmer LLP
Email: rkissel@kphwlaw.comPhone: +1 (011) 1 914 750 5933 Website: http://www.kphwlaw.comAddress: MAIN OFFICE: 580 White Plains Road, Tarrytown, NY 10591 | Long Island: 1010 Franklin Ave, Suite 414, Garden City, NY 11530 | NJ: 1060 North Kings Highway, Suite 311, Cherry Hill, NJ 08034 | London: 52-54 Gracechurch Street, 4th Floor, London EC3V 0EH Country: UNITED STATES
Kissel Hirsch & Wilmer LLP ("KHW" or the "Firm) was founded in 1998 by a group of experienced and well-regarded insurance and reinsurance law experts whose focus is to provide the highest level of legal services to its clientele.

KHW vigorously protects our clients' interests, by providing first rate legal services tailored to each client's corporate philosophy and approach to commercial relationships. We conduct our work economically, in partnership with our clients and to foster long-term relationships marked by communication and transparency. We strive to make a difference for our clients on each instruction and have developed a firm environment that is cordial, congenial, and educational. KHW prides itself on its innovative approaches to the resolution of our clients' legal problems.

KHW focuses on all aspects of insurance and reinsurance including claims and coverage analysis and monitoring, program reviews and audits, policy drafting and review, risk analysis, direct defense and general counsel services and, where necessary to resolve a dispute, mediation, litigation, and arbitration.

KHW has a team of well-qualified and dedicated attorneys from a broad range of backgrounds. The Firm takes pride in the quality of its services and the team-oriented approach we have fostered, to the benefit of our clientele.
KHW's main office is located in Tarrytown, New York. We also have offices in New York, New York; Garden City, New York, Maple Shade, New Jersey; and London, United Kingdom.
Contact Kissel Hirsch & Wilmer LLP