Meister Seelig & Fein LLP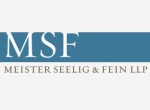 Meister Seelig & Fein LLP
Email: adp@msf-law.comPhone: +1 (203) 883 1700Fax: +1 (203) 358 4072Website: http://www.meisterseelig.comAddress: One Canterbury Green, 201 Broad Street, Suite #460 (06901) - Standford, ConnecticutCountry: UNITED STATES
Meister Seelig & Fein LLP is a commercial law firm composed of over forty (40) attorneys with offices in Manhattan, Los Angeles, Connecticut, Boston, East Brunswick, New Jersey and affiliate offices in Pennsylvania, Delaware and Australia. Founded in 1994, the Firm is comprised of accomplished, entrepreneurial attorneys many of whom received their training at major national and international law firms. The Firm serves a wide variety of clients, including both public and private companies, high net worth individuals, real estate investors and developers, entertainers, professional athletes, software developers, entrepreneurs and hedge funds by providing a broad array of legal services.
The Firm's significant practice areas include:
Corporate securities, mergers and acquisitions and commercial loan transactions
Sophisticated commercial real estate transactions and litigation
General corporate law
Employment law
Investment structuring
Strategic venture structuring
Insurance/reinsurance and products liability
Entertainment law
Commercial litigation for each of the Firm's practice areas in both federal and state courts
Intellectual property, new media and computer law
Business and personal tax planning
Asset protection and estate planning
Our objective is to deliver the highest quality legal services and practical business advice and to provide aggressive advocacy when disputes arise. Through cutting edge technology, we are able to effectively and efficiently serve our clients and bring all necessary resources to bear on their behalf. While we represent local, national and international businesses of all sizes, we handle every matter with the superior level of care and attention to detail that each and every client deserves. We deliver the services of much larger firms while offering personal, partner-level attention. Our attorneys think broadly and creatively across multiple disciplines, providing a competitive advantage and successful results for all our loyal clients.
Contact Meister Seelig & Fein LLP