Gallivan White & Boyd P.A.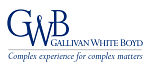 Gallivan White & Boyd P.A.
Email: drheney@gwblawfirm.comPhone: +1 (864) 271 9580Website: http://www.gwblawfirm.comAddress: One Liberty Square, 55 Beattie Place, Suite 1200, Greenville SC 29601 | 1201 Main Street, Suite 1200, Columbia, SC 29201 | 40 Calhoun Street, Suite 300, Charleston, SC 29401Country: UNITED STATES
Founded more than six decades ago, Gallivan, White and Boyd, P.A. has offices in Charleston, Columbia, Greenville, and Anderson South Carolina, as well as Charlotte, North Carolina. GWB frequently represents corporations, businesses, and individual clients in complex business and commercial disputes, arbitration, and litigation. Several core areas of competency for the firm include:
- Business and Commercial Litigation
- Class Actions
- Commercial Transportation Litigation
- Construction Litigation
- Corporate Planning and Commercial Transactions
- Economic Development and Incentives
- Healthcare Litigation
- Insurance and Reinsurance
- Intellectual Property
- Products Liability
- Professional Negligence Litigation
- Toxic and Mass Torts
- Workers' Compensation Defense

Gallivan, White & Boyd continues to be ranked by Chambers USA as a Leading Law Firm for Business. In its 2014 edition of Leading Lawyers for Business, Chambers notes that GWB "continues to earn praise for its strong litigation practice" and that it has been "particularly noted for its experience in healthcare and pharmaceutical matters."
Gallivan, White & Boyd has also received significant recognition recently by being selected for inclusion in the 2015 edition of "Best Law Firms" published by U.S. News & World Report. In 2013, the firm also received the Defense Research Institute's Law Firm Diversity Award.
Contact Gallivan White & Boyd P.A.