The Benefit Insurance Lawyers Group is proud to announce that from 22nd March 2011, it will change its name to Insuralex.
Enrique Belzuz Fernández, the President of the Group commented "We are delighted to introduce the new name of our Group, which reflects our unity and dynamism as an association of outstanding lawyers who are used to working together across borders and across differing legal jurisdictions. We have 20 firms in the Insuralex Group, in Europe, the USA and South America. We also are working with the Arc Group in Canada, who offer coverage in all seven provinces across the Country. These colleagues are all among the leaders in their jurisdictions and provide the Group with an excellent global platform."
In other news, Insuralex announces that David Brackenbury of David Brackenbury Associates Ltd. will be associated with the Group as the Marketing and Communications Expert. Enrique commented "We are very impressed with the network of London Market Experts that David is working with. We know that David will be able to give Insuralex the profile it needs in the Lloyd's and London Market communities."
David Brackenbury added "I am delighted to have been invited to work with the team at Insuralex. I have been extremely impressed by the Group's breadth of expertise and its geographical coverage. I have worked with colleagues in Insuralex before and know their reputation and quality. I am very much looking forward to demonstrating this to colleagues in the Market"
Note to Editors: Insuralex (formerly the Benefit Insurance Law Group) is an association of independent legal practices based in Europe, the USA and South America.
David Brackenbury Associates Ltd. operates to provide communication, marketing and intelligence services to Experts operation in the Lloyd's, London and European insurance Markets.
For further information please contact:
Enrique Belzuz Fernández
+34 915 625 076
David Brackenbury
Marketing Director
Tel: Mobile: +44 7740509925
First non-american IADC President
CHICAGO – At its Annual Meeting in July, held at The Fairmont Chateau Whistler in Whistler, British Columbia, Canada, the International Association of Defense Counsel (IADC) elected William J. Perry President for the 2011-2012 term.
He is the first non-American lawyer in history to be elected to this prestigious position in the Association. The IADC is an invitation-only professional association for corporate and insurance defense lawyers around the world.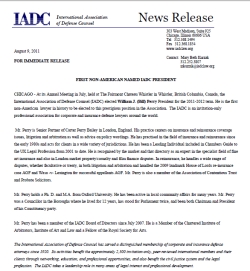 .
.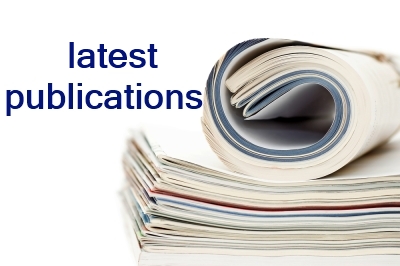 International Reach
Insurance law is globalizing, and international networks of independent law firms present an attractive alternative to a merger between individual firms.
As insurance globalizes, business and insurance law firms in Europe, Canada and the United States are marrying up, and legal networks are expanding across the Atlantic to provide an attractive alternative for insurance defence firms wishing to retain their local identities.
For a variety of reasons, a number of business and insurance law firm mergers and strategic partnerships have been announced over the past few years.