Legal forecasts: Predictions for the UAE, US and Germany for 2013
---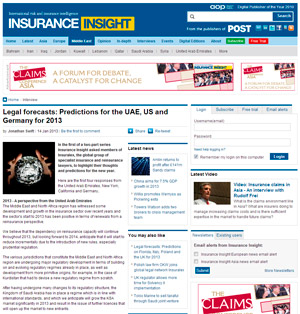 In the first of a two-part series Insurance Insight asked members of Insuralex, the global group of specialist insurance and reinsurance lawyers, to highlight their thoughts and predictions for the new year.
Here are the first four responses from the United Arab Emirates, New York, California and Germany..
2013 – A perspective from the United Arab Emirates The Middle East and North Africa region has witnessed some development and growth in the insurance sector over recent years and the sector"s start to 2013 has been positive in terms of renewals from a reinsurance perspective.
We believe that the dependency on reinsurance capacity will continue throughout 2013, but looking forward to 2014, anticipate that it will start to reduce incrementally due to the introduction of new rules, especially prudential regulation.
The various jurisdictions that constitute the Middle East and North Africa region are undergoing major regulatory development in terms of building on and evolving regulatory regimes already in place, as well as development from more primitive origins, for example, in the case of Kurdistan that had to devise a new regulatory regime from scratch.
After having undergone many changes to its regulatory structure, the Kingdom of Saudi Arabia has in place a regime which is in line with international standards, and which we anticipate will grow the KSA market significantly in 2013 and result in the issue of further licences that will open up the market to new entrants.
The Dubai International Financial Centre and the Qatar Financial Centre deserve particular mention, and have proved themselves in establishing highly effective regulatory systems that have attracted a great many of the leading global insurers, and resulted in large quantities of business being underwritten, which is set to continue in 2013.
Although there has been a reduction by some jurisdictions, and in some cases, a complete prohibition, in the issuance of licences (largely due to the fact that there are too many players in one region), this has given rise to more mergers and acquisitions as those not already established in the region strive to get a foot in the door, and those already established expand to take advantage of a growing market.
Takaful insurance has also seen and will continue to see major inroads and growth in the MENA region, especially with many jurisdictions introducing mandatory healthcare. Oman has fully recognised Takaful insurance and has further developed its regulatory regime to cater for this in line with international insurance standards.
What we may see occurring in 2013, particularly with the rise of public discord and political discontent in some of the Middle Eastern and African jurisdictions, is a real test of the regulatory systems and how they perform on a practical level. If such a test occurs, it will no doubt lead to a year of further evolvement of the regulations and the insurance sector.
Michael Kortbawi, partner, and Nadda El Kaloush, Bin Shabib and Associates, Dubai
2013 – A perspective from New York
National events and the political response surrounding the issues of the day, including the effects of climate change, fiscal issues, gun violence, and the health care regulatory environment, will have a significant impact on New York business interests and will create attendant issues that will need to be resolved by the legal community.
As attorneys representing the insurance/reinsurance industry, we believe that the resolution of issues involving the effects of Hurricane Sandy, the continuing economic uncertainty, healthcare and cyber-related issues will continue to evolve, could challenge capacity, and could provide increased risk exposures for our clients.
Richard A. Kissel, partner, Kissel Hirsch and Wilmer LLP, New York
2013 – A perspective from California
In terms of California, we are seeing the state"s economic crisis drastically affecting ther court system, causing civil cases to languish and not move to trial as quickly because criminal cases have priority.
The courts have had to close courtrooms, they take 'furlough days" which means that the courts are closed certain days and the employees take those days off without pay, and staff have been laid off.
Each county in California is a bit different, but the lack of funding is drastically hurting the ability of a civil suit to get to trial. As a result, many cases are going to mediation sooner, which may be a good thing.
At the very least, defendants need to know that it will take longer to get through the system if the case is to go to trial. Most cases do not go to trial, they settle. So the incentive is certainly to try to work out a settlement earlier in the process than later.
Jean M Lawler, managing partner, Murchison & Cuming, Los Angeles
2013 – A perspective from Germany
The German insurance industry will face several challenges in 2013. Life insurance companies are under particularly critical observation by the public as a result of low interest rates and demographic trends.
Solvency II and unisex tariff schedules come on top of all this. Insurance policies against storm and other forms of natural damage have to come to terms with climate change and mounting damage levels caused by natural disasters.
Several recent rulings handed down by the high courts will no doubt have an impact on directors" & officers" insurance concepts.
The revised German Insurance Contract Act (VVG), which went into effect on 1 January 2008, has raised several legal issues which have yet to be resolved by the German Supreme Court.
As a result of the increasing practice of revisions of laws being withdrawn before the Federal Supreme Court at the last minute, thus preventing fundamental rulings on principles, there are a growing number of voices calling for a change in the law. It remains to be seen how German lawmakers will react.
Ralf-Thomas Wittmann, Grooterhorst & Partners, Attorneys at Law, Düsseldorf
Legal forecasts part II : Predictions on Florida, Italy, Poland and the UK for 2013