On 22-24th April, Jean Lawler (Managing Partner – Murchison and Cumming LLP) and David Brackenbury (Marketing Director) had a very successful visit to the RIMS Conference in Los Angeles
---

Jean Lawler (Managing Partner – Murchison and Cumming LLP) and David Brackenbury (Marketing Director) had a very successful visit to the RIMS Conference in Los Angeles on 22-24th April. During the event Jean and David had meetings and discussions promoting Insuralex to more than 40 Insurers, TPA Executives and Risk Managers.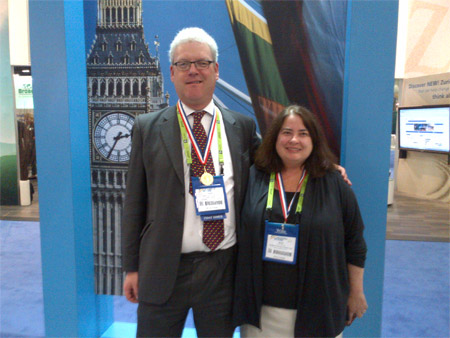 RIMS Conference – Los Angeles 22-24th April 2013
Dear Friends,
After a very successful visit to RIMS last month, I have the pleasure of reporting our activities to you all. Firstly, I want to thank Jean Lawler of Murchison & Cumming for her support throughout the event. It is really important to have a mutual approach to our marketing and the involvement of the local Member was crucial. We worked hard during the 2 ½ days of the Conference and my records indicate 53 individual meetings, although the number I will report on are somewhat fewer, owing to return visits and a couple of discussions that turned out to be not so suitable for our purposes.
I will report later in this paper in detail on the discussions that Jean and I had, but it may be useful to give some background on RIMS, for any members who may not be fully aware of the event and the attendance.
The Risk and Insurance Management Society is a global not for profit organisation that was founded in 1950 and currently has more than 11,000 Risk Management Professionals, representing some 3,500 entities around the world in Government, Public Sector and Corporate business. The RIMS Conference brings these professionals together with many Insurance Underwriters, Brokers and other industry experts. The Conference is held yearly in the USA and attracts some 9-10,000 delegates.
For many years I have heard of RIMS and was well aware that it was a significant event in the Insurance Calendar. I was very impressed with the scale of the event. The Exhibition Hall has over 400 stands from many of the most significant players in the Market to quite small technical service providers. Jean and I spent much of our time visiting these stands, as well as attending some of the functions that RIMS and other Sponsors arranged during the visit.
Jean and I agreed that we had worked well together and our differing styles and approaches were very effective!
Before discussing the individual meetings that we had, it is probably useful to point out that although RIMS is held in the USA, it attracts an absolutely global audience of participants. There were, apparently, delegates from nearly 100 Countries around the world and of course, many of the Risk Management professionals represent multi-national industries. In turn, the Insurers and market professionals represented were also usually representing Global companies. Therefore, the Conference was of great use to Insuralex and its Members, wherever they are located.
In discussing the individual meetings, we hope that you agree that we saw an interesting and full range of contacts. I was mindful of the Board's direction that we should emphasise our marketing to approach those who have the authority to appoint Counsel. As far as possible during these discussions, we were trying to do so and if this could not be done, we were asking for details of Heads of Claims and those in charge of selecting Panels of Attorneys, Solicitors and Experts. Jean and I were both surprised by the genuine interest that was shown in Insuralex. I will now describe the meetings in detail and will then discuss how we follow up these encounters.
RIMS 2013 – Meetings
We had meetings and discussions with the following Companies and individuals:
1. North Carolina Department of Insurance – Raymond Martinez – Senior Deputy Commissioner / Jeffrey Trendel – Deputy Commissioner
Raymond and Jeffrey explained that North Carolina are working on litigation that will enable Captives to operate more freely within NC. They were interested in Insuralex and our plans for expansion in the USA. As can be imagined, they were very interested in our plans with selecting a Member for North Carolina. Useful discussion and it was good to get the feel of a US Government Insurance Department and to get their perspective on Insurance matters.
2. McLaren International – Gary Brown – Regional Director USA / Steve Boss – Adjuster Chicago / Doug Horne (UK / Airclaims) – Director of Marketing / Sam Beery – Vice President Branch Operations
McLaren International need no introduction and are a major international firm of loss adjusters and claims consultants. They have an important role working with Insurers and Reinsurers and are involved with them in the instruction of Counsel and other experts. McLarens are also involved in TPA work where they have authority from insurance carriers to manage, negotiate and settle claims. Here again, they have a role in taking legal advice and representation in coverage and defence issues. I have known and worked closely with McLarens for many years and know Gary Brown well. He is on the McLaren Global Management Team for the USA and Canada and was very interested in Insuralex and the breadth of coverage in the USA and the rest of the world. I know many of the senior people at McLarens worldwide and they are good people. We will follow up in the USA and also Canada and the rest of the world.
3. Claims Resource Management, Inc. – Vanessa Abel – Assistant Vice-President / Michael McElvany – Senior Claims Analyst
Interesting meeting with this TPA, that is based in California, Nevada and Colorado. As a TPA they do instruct Counsel on behalf of the London market and as such may be a useful contact for our Members in CA and CO., as well as elsewhere. Vanessa will be visiting London soon and we will follow up.
4. Lloyd's of London / Lloyd's Agency Department – Mark Patterson – Head of Agency / Aidan Holly – Business development / Rodney Smith – Lloyd's Regional Director for the SE of the USA (Duluth, GA) / Anthony Joseph – Lloyd's Regional Director – Western USA (Manhattan Beach, CA) / Mac Castro – Events and Visits Manager
It was important to visit the Lloyd's stand at RIMS and this was one of the biggest stands at the show. The stand was manned by senior Lloyd's executives and representatives from many of the Lloyd's Managing Agents and Lloyd's Brokers. We were able to introduce ourselves to the above regional Directors as well as the Agency colleagues. They play an important role in clams surveying and adjusting and work with Insurers on the instruction of Lawyers and other Experts. Lloyd's itself has a huge role in promoting the Market throughout the world and as you will be aware, they arrange many meetings in various countries where Insuralex is represented. It was very good to meet with this team and to meet with some of the Market figures that were present throughout the event. These will be reported upon separately.
5. LIG Ensulting Co Ltd. – Han Yong Jin – Manager Risk Consulting team
This Enterprise Risk Consulting and Environmental technology firm is quite interesting. Based in Seoul, Korea, they are involved in the development of Clean Energy as well as Risk management and Engineering consulting. Han Yong Jin is a senior Manager on their Risk Management team and may be a useful contact in Korea, especially if Insuralex acquires a Member in that area.
6. CorVel Group – Daniel H. David – Vice President
This Group is engaged in providing assistance, both with industry and also with the Insurance and Reinsurance industry with Workmen's Compensation issues, as well as more general liability issues. They are one of the biggest such Groups in the USA and as Claims Managers have the specific authority to instruct Counsel in matters of defence and in representing Insurers and industry alike. Daniel was genuinely interested in Insuralex and as he is based in Pennsylvania, it would be a good idea to invite him to our seminar in New York – Action point
7. Cunningham Lindsey International – Ben Price – Executive Director – London / Dan Corringham – Executive General Adjuster – Chicago / David Rodgers – Vice President – PA / Roger Eiler – Vice President – NJ
Like McLarens above, Cunningham are one of the big four loss adjusters and they too are moving increasingly into Claims management and TPA work. It is therefore good for us to meet up and to promote Insuralex and the extent of our Group. It is clear that as the nature of the simple loss Adjuster evolves into Claims Management, they will increasingly have a direct responsibility to instruct Attorneys and Solicitors. It was also great to meet with such a broad cross-section of the Cunningham Group in the USA. I know Ben Price well and have worked with Cunningham Lindsey over many years. Ben is based in London and we agreed to meet up over the next few weeks.
8. Swiss Re Services Limited – Sarah Border – Client Manager New York / Cole Mayer
This was a useful discussion with Sarah and two helpful people from the Marketing and Communications team. They are really interested in Insuralex and will pass on our details to their Claims staff. We were advised to speak to Nicola Parton the Managing Director of Corporate Solutions Claims. Although she was at RIMS, we were not able to get together, but she is based in London and I will make arrangements to meet in the UK – Action Point
9. AEGIS Insurance Services – Fred Murnane – Senior Underwriting Officer – New Jersey
Fred was very friendly and interested in the network of Members we have in the USA and was helpful as we discussed our Members worldwide. He suggested that we meet with David Coombe-Johnson from the UK, who, again was at RIMS. We were unable to meet in Los Angeles, but I will follow up in the UK. And it would be well for Rich to address Fred in NY/NJ. A good name of an important UK based claims executive.. – Action point
10. Lockton Companies – Claudia Mandato – Executive Vice President – Corporate Operations – Kansas City
Claudia is based in the main Holding Company in Kansas City and thinks that Insuralex is a very interesting concept. She was impressed by our coverage in the US. After a good conversation with Jean and myself, Claudia will pass our details on to her Claims Departments. Perhaps Michael or Scott could follow up. I will refer them to her.
11. Axis Insurance – Mike Enos – Marketing and Communications
After a somewhat lukewarm reception, Mike thawed a little and suggested that we should make contact with David Hayward in the UK. I will do so – Action Point
12. Freedom Speciality Insurance – Ryan C. Nava – Director Financial Institutions – New York / W. Laird Stabler – Senior Underwriter – Chicago
Freedom is backed by Nationwide and specialises in underwriting Commercial D&O insurances and Financial Institutions such as Banks, Insurance Companies, Pension Funds and Hedge Funds. There is some clear connections with our Membership and the areas of insurance written by them and it is worth following up in the US particularly. It would be good to invite Ryan to the Insuralex presentation in New York – Action point
13. Aspen Insurance – Fred Cooper – Executive Vice President – Chief D&O Underwriter
We had an amusing and interesting session with Fred and a colleague. They were interested in Jean and my presentation and were interested to hear of the Group. The US Head of Claims is Jeff Bossart who is in charge of US Claims, based in New York. I will contact him and we should invite to the NY function. – Action Point
14. Old Republic Construction Insurance Agency – Fil Gutierrez – Underwriter / Carl Kandalaft – Marketing Specialist
Old Republic is a major (Fortune 500) Illinois based Insurer that is well established in the Construction industry. It makes good sense for them to be present at RIMS, which has a strong presence of Risk Managers and Experts involved in Workers Compensation matters. Fil is an Underwriter working out of the Padasena CA offices and was interested in Insuralex and also was interested in meeting with Jean and Murchison & Cumming.
15. CertFocus – Jeff Krieger – Director
We had a brief chat with Jeff, who runs an IT service, which verifies and electronically seals and tracks documents (Certificates, Policies, agreements etc.) to ensure that they are accurate and compliant with the various standards that are expected, as well as being a verifiable record of terms that have been agreed. Such a service has useful implications in the Legal, as well as the Insurance industry and could be a useful service.
16. Travelers – Jaime Morales – Claims Account Executive / Sal Mucia – Los Angeles
We had a very interesting meeting with Travelers. The focus of our discussion was introducing Insuralex to the Company and being considered for the various Panels that Travelers use in the USA, as well as internationally.
Jaime was impressed by our presentation and was also interested in where Insuralex had Members. We were able to explain the locations of Members and also some of the individual expertise that we can offer. Jaime asked me to forward some more concrete details to him and he will circulate with a view to being considered for Travelers legal Panels. – Action Point
17. Starr Companies – David Ellis – Marketing and Communications – New York / Lynda Colucci – Underwriting Manager Professional Liability / Richard Wilson – Senior Underwriter – Public Entity – Los Angeles
Starr Companies are multinational Insurers that are represented in the USA, London and Asia. They are a significant player in the fields of Casualty, Indemnity, Financial Lines, Property, marine and Aviation. They had spent a good deal of effort at RIMS and hosted one of the main evening receptions. It was particularly useful to meet with David from their head office in New York, as well as Richard and Lynda, who are line Underwriters in California. They were both interested in hearing about Insuralex and will circulate our details and information to colleagues. It will be a good idea to invite David to the New York Seminar, if possible. – Action Point
18. Macafee and Edwards – Juan Buenida – Director / Eddy Romero / Pedro Viana – Los Angeles
A useful contact for our friends in Mexico, Jauregui & Navarette, M&E are Brokers that specialise in Commercial and Personal Lines business throughout Mexico. They were interested in the set up of Insuralex, the Mexican Member and, of course the liaison that we offer in the US and elsewhere. They were particularly interested in the connection we have with the Arc Group.
19. W.R. Berkley – Richard Hayes / Philip Cordeiro – Casualty Underwriters / Mark Sydney – Claims Analyst
A very important Insurer, with multi faceted operations covering much of the insurance and reinsurance worlds, WR Berkley need little introduction in the USA or London Markets. They also have a strong presence in Europe, Asia and Australia and have over the last ten years or so established themselves as one of the pre-eminent US Insurers.
It was a pleasant conversation and we passed details of Insuralex's coverage and expertise to them and these will be passed on. I know the COO of the Lloyd's Syndicate ( Andrew Mitchell , ex-Beazley) and I also know the President and Executive Vice President of Berkley Asset Protection – Joe Dowd and Greg Smith . They are based in New York and it will be good to invite them both to the Insuralex Seminar. – Action Point
20. Ironshore – Amanda Spero – Marketing Manager
Another very useful discussion with a very significant Insurer in the US and also in the Lloyd's Market. This followed on very usefully from recent meetings that Bill Perry and I have had in London with their Lloyd's Head of Claims, Gillian Barnes. We discussed this meeting and also were given the name of Mike Mitrovic – Global Head of Claims. Also mentioned was David Frediami, who was also mentioned in the earlier London meeting. Amanda said that she would circulate the information that we provided and we will follow up in turn.
21. Markel – Joseph Feeley – Claims Supervisor – Legacy Environmental Claims
Joseph is based in Southern California and was interested in Insuralex and what we can do in California and the Western US States. I explained that we were able to offer good coverage throughout the US and, even where we do not have a Member, it would be very likely that we would be able to offer assistance and a recommendation to Insurers even in States where we are not represented at the moment. I think this went down well. Joseph will circulate our information and we will also target Markel from Los Angeles and London. – Action point
22. Hall Booth Smith PC – John Hall / James Fisher
A meeting with these pleasant lawyers, based in Atlanta. They expressed sincere interest in Insuralex and asked about the possibility of being considered as Members for Georgia. This needs some thought, as they are members of the US Law Group. We also met Richard Magrath, President of Globallegal , which is connected with Hall Booth providing corporate solutions and is involved in setting up partnerships between Lawyers and industry.
23. Sedgwick – Ken Belich – Senior Vice-President – Client Services
This was a particularly interesting encounter. Sedgwick are the largest TPA in the US, with 195 offices and Ken was very interested in hearing about Insuralex and what we do. They are headquartered in Memphis and Ken promised to pass on Insuralex details to their Liability Department and other colleagues. A contact well worth addressing – Action Point
24. Ace USA – Steve Wunderling / Apinya Nguy – Professional and Commercial Risk Services
An amiable meeting with Steve and Apina, who are based in California. I explained that I have a good deal of experience working with the Ace Group in London and am on good terms with Underwriting and Claims staff alike. I said that we were looking to be included on Insurer's Panels within the US and internationally. Steve and Apina promised to pass these details up the line and made particular mention of D&O matters. A useful discussion and well worth following up. – Action Point
25. Integro Brokers – Paul Perks / Betsy van Alstyne – Principals – New York
Integro are quite big in the US having placed in excess of US$200M premium worth of business. They are very much a full service Broker and pride themselves on the influence and partnership that they have with Insurers. Integro have a well regarded Lloyd's operation as well and I am in contact with them in the UK. Paul was interested in Insuralex and promised to bear us in mind. It would be a good idea to invite Paul and Betsey to the New York Seminar – Action Point
26. Argo Group – Tony Cabot – Director Product Development / Stephen Scheier – Vice President Underwriting / Wes Raska – Assistant Vice President Commercial Surety
Since Argo was set up a couple of years ago, we have developed an excellent working relationship with colleagues in London and it was very good to make the contact of the US counterparts. I am working quite closely with Ashley Lawrence the UK Head of Claims and Paul Gooderson, the Marine and Cargo Class Underwriter. Our discussions were very positive, therefore and it was an interesting discussion.
Tony Cabot made reference to Trident Risk Services that acts as a TPA and he said that he would pass on our details – Action Point – Needs and invitation to the New York event. Wes Raska enquired about our expertise in Surety business (bonds and similar products). I said that we would look into it and revert to them in due course – Action Point
27. Hartford Steam Boiler Inspection & Insurance Co / Munich Re – Glenn Sansbury / Burton Smith – Senior Client Managers / Ray Oliver – Client Manager
This was an intriguing visit. HSB are a subsidiary of the Munich Re and they specialise in Machinery breakdown coverage, as well as Employer's Liability and other speciality products in plant, machinery and similar areas. We discussed Insuralex and they were interested in some of the technical expertise that we can offer in the US and Canada.
28. Arch Insurance Group – William Palmer – Executive Vice-President / Michael Brezinsly – Regional Vice President
Arch are a very large Insurance Group and I am familiar with some of their London operations. It was very useful to meet with William Palmer, based in Chicago and he was interested to hear about the Insuralex Group and our activities internationally. Mike Brezinsky is an Underwriter on the Property side and they both said that they will refer our material to the US Head of Claims, Mark Wade , who I will follow up with. He is based in New Jersey and should be invited to the New York Reception – Action Point
29. Crawford / Broadspire – Janet Honeycutt – Director Business Development
Crawford are well known as international Loss Adjusters and it was interesting to have a conversation in that regards. However, Crawfords have set up Broadspire, which acts as a TPA with expertise in medical malpractice and Workmen's compensation cases. We had an interesting conversation and noted the fact that Crawford in England have set up a TPA that may rival the dominance of Xchanging in London. We were recommended to speak to Michael Curcio , who handles Vendor Service issues. To follow up – Action Point
30. Chubb Group – Marylou Rodden – Claims Executive / Deanne Gordon – Financial Institutions Underwriter / Terry Dyben – New Jersey
Useful conversation with the Chubb. A large US and International carrier that needs no major introduction. We spoke about Panel instructions and Marylou advised us that the contact in charge of Panel Counsel is Peter Vogt , who is based in their Atlanta office. We will follow up – Action Point
31. AIG Property Casualty – Jeff Bergstrom / Alexis Fishman – Senior Business Development Manager
Jeff is involved in Underwriting US Companies that are doing business in the US and also internationally and so he was genuinely interested in the international reach of Insuralex. Jeff and Alexis suggested that we speak to Althea Garvey the Los Angeles Claims Director and the UK head of Claims Rob Schymyck. – Action Points for DB and JL
32. FM Global – Benoit Charbonneau – Vice President
I was invited to the Reception hosted by the Canadian delegation to RIMS and had some useful meetings in which I was able to recommend Insuralex and, of course, the Arc Group. FM Global is a major Commercial Property Insurance carrier and business continuity specialist. They work closely with Risk Managers in industry and have a specialisation in loss prevention. Benoit is based in Montreal and is the Head of Operations for Eastern Canada. He has heard of the Arc Group and was very interested about the global relationship with Insuralex. I will refer him to Jamie Trimble. – Action Point
33. The City of Edmonton – Ken Baker – Programme Manager Office of Strategic Services
It was very interesting to speak to Ken, who is involved in Risk Management, Insurance provision and many other duties for his city. He was interested in the services that Arc and Insuralex offer in the fields of Insurance Coverage and defence work and was impressed by the coverage that we can offer in Canada. We had a very pleasant discussion and I pointed out that he had access to a wealth of legal expertise.
34. RIMS – Mary Roth – Executive Director
It was very good to meet with Mary and chat about the huge event that is RIMS. I explained Insuralex and the extent of US and Canadian coverage that we can offer. I also had a good discussion about RIMS. It is great to see Industry interacting so effectively with the Insurance world and I said that we were extremely impressed by the scale of the event. An extremely worthwhile contact and we promised to keep in touch.
35. SCM Larry Shumka – CEO / Malcolm Ross – Senior Vice-President Business Development
This is a company that supports the Insurance industry with a variety of tools, which provide claims management, adjusting, risk analysis and investigative services. They are based in Edmonton and Toronto and are clearly a firm that the Arc Group should bear in mind. They have heard of Insuralex and also the Arc Group and it was good to explain the extent of the international operations and also our influence in Canada. Interesting discussion and well worth following up. – Action point
36. Giffin Koerth – Chris Giffin – President
Based in Toronto, this company specialise in forensic engineering and loss mitigation in the technical and engineering worlds. In many ways, we are fellow travelers as we can assist the claims process. We had a very interesting discussion and will keep in contact in Canada and internationally.
37. XL Group – Michelle Donaghy – Marketing Executive
Good chat with Michelle. She is very much a marketing person and, as such, does not have extensive experience in the line management of insurance and reinsurance. Nevertheless she immediately understood Insuralex and what we are bringing to the Market. Michelle told us that the Head of Claims, based in New York is Paul Tuhy, but he will be relinquishing this role in May. He will still be a person of great influence and should be invited to the New York event. We have good connections with XL from London and they will continue to be a very significant Insurer and Reinsurer on a worldwide basis. – Action Point
38. Beazley Group – John Beauchamp / Jayne Cunningham – Underwriters Environmental Lines
We have been working hard with Beazley in London over the past couple of years and they are an extremely well respected Managing Agent and Insurer. Therefore, it was a pleasure to meet John and Jayne from the US. It goes without saying that the influence of contacts in these global businesses can be quite profound. Nice people and we should invite to the New York reception. – Action Point
39. QBE America – Steven Contezac – Vice President Corporate Risk Management
We have a very positive relationship with the QBE Group in the UK and I am aware that Members are on Panels in their various areas of business and geography. It was good to meet with Steven, who is focused on enterprise risk management. He was interested in insurance defence scenarios and would be a good contact to maintain. Steven operates in a different environment to that of the London Market (in my experience, anyway!) and I think that these contacts who are focused more on Risk Management could be valuable to us.
40. Lockton – Stephen Ambidge – Partner
It was good to meet a Brit at the Lloyd's sand and I know Stephen from my work in the Adjusting field. He is a senior figure in Financial Institutions in London and was interested in Insuralex and our activities. Lockton are a medium large Lloyd's Broker and they still offer a full service to their clients that involve very professional handling of claims. While, Locktons will be unlikely to make the decision to instruct Counsel or Legal Representation, they are well respected and have influence throughout the process.
As you will be able to see from the above, Jean and I had a very active 2 ½ days at the Conference. It is a great forum for the Insurance and Reinsurance communities to meet with Industry and there were excellent events going on all the time. Regrettably, Jean and I were focused on working the room and we stuck to our task of meeting friends from such a wide spread of the Market.
Nothing like this is easy. We were trying all the time to meet with, or gain access to contacts who have the ability to select Lawyers for their firm's Panels, or at least have influence in how this is done. Jean and I worked hard with this in mind and I think that we made a real impact during the conference, but the important point here is following up the very positive impression that we made during the event.
I have annotated above a number of Action Points, which should be our first focus. As the New York Reception draws near, I will ensure that I circulate a list of New York contacts that we should invite to the event. Additionally Jean and I will work together to make sure that Murchison and Cumming's influence in California and the West is emphasized and the skills and expertise of all of your practices are flagged up to prospective clients. In the coming weeks, I intend to personally email everyone that I met at RIMS to remind them of our conversations and of the expertise that we represented at the RIMS conference.
As I have said before, Insuralex is nothing without its Members. We can market the Group with great enthusiasm, but it is a Member who will receive instructions from the Market. We received a very positive impression from this meeting. We worked pretty hard to see as many people as we could and we sincerely hope that work and instructions will arise. Jean and I both look forward to hearing some of the positive outcomes of this event.
Apologies for the time that it has taken to get this Report to you, but some tweaking was necessary! The next communication will be the details of follow up activity.
We both hope that you find this lengthy report to be interesting. Naturally, we are at your disposal for any comments and questions that any of you may have. We actively seek and welcome your feedback and intervention!
With best regards,
David Brackenbury / Jean Lawler