In the second announcement within a week Insuralex have announced that they are delighted to have invited Irwin Fritchie Urquhart & Moore LLC to join their international group of lawyers that specialise in Insurance and Reinsurance law, coverage and defence work.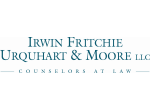 Irwin Fritchie have been active since 2000 in New Orleans and have built up an excellent practice that covers a multi disciplinary approach to the handling, analysis and litigation of a wide range of disputes in Insurance and Reinsurance contracts.
Quentin Urquhart, a Member of the firm and the current President of the International Association of Defense Counsel (IADC) commented "It is a great pleasure and achievement for our firm to have been elected as Members of Insuralex. I have been privileged to have succeeded Bill Perry as President of the IADC and it will be an honor to work with Bill and the great colleagues in the Insuralex Group.
In response, Bill Perry, President of Insuralex replied "We are delighted to welcome this outstanding practice to Insuralex. We have been seeking the very best firms in the jurisdictions that are seeking representation and it is clear that we have attracted another outstanding firm to Insuralex. Irwin Fritchie Urquhart and Moore will be a great addition to enhance our Group in the USA and beyond."
Insuralex is a worldwide association of independent insurance and reinsurance lawyers dedicated to the global insurance and risk management community. The Group consists of 28 leading firms of lawyers around the world, all of whom specialise in insurance and reinsurance coverage, defence and litigation work.
For further information, please contact:
David Brackenbury
Marketing Director
Tel: Mobile: +44 7740509925