The Editor interviews David Brackenbury, Marketing Director of Insuralex.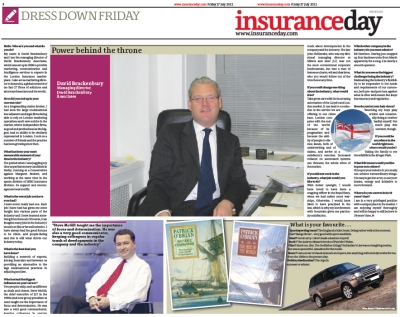 Hello. Who are you and what do you do?
My name is David Brackenbury and I am the managing director of David Brackenbury Associates which was set up in 2006 to provide marketing, communication and intelligence services to experts in the London Insurance market-place. I also act as marketing director to Insuralex, a global network of (so far) 27 firms of solicitors and attorneys based around the world.
How did you end up in your current role?
As a longstanding claims broker, I had seen the large multinational loss adjusters and legal firms being able to rely on London marketing operations and I saw a niche in the market, where independent firms, as good and professional as the biggest, had no ability to be similarly represented in London. I took on a number of friends and the practice has been growing since then.
What has been your most memorable moment of your time in the Industry?
The period when I was juggling my time as parliamentary candidate in Derby, running as a Conservative against Margaret Beckett, and working at the same time in the specie division of HSBC Insurance Brokers. Its support and encouragement was terrific.
What is the worst job you have ever had?
I have never really had one. Each job I have had has given me some insight into various parts of the industry and I have learned something from them all. Of course, I can imagine many jobs in the industry I would not like or be well suited to. I have always had the good fortune to be client and people-facing and this is still what drives our industry today.
Who has had the biggest influence on your career?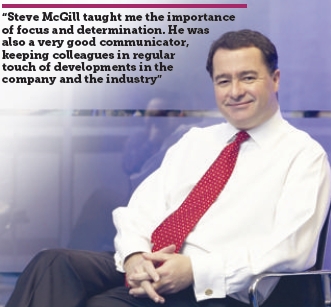 Two people really, each as different as chalk and cheese. Steve McGill, the chief executive of JLT in the 1990s (and now group president at Aon) taught me the importance of focus and determination. He was also very good communicator, keeping colleagues in regular touch about developments in the company and the industry. The late John Hollinrake, who was my divisional managing director at Minets and later JLT, was not the most conventional corporate businessmen, but was a man of inmense charm, wit and charisma, who you would follow out of the trenches any time.
If you could change one thing about the industry, what would it be?
Take great care with the increasing automation of the Lloyd's and London market. It can lead to a reduction in the service we are offering to our client base. London competes with the rest of the world because of its pragmatism and because the ability of people to discuss issues, both of underwriting and of claims, and arrive at a satisfactory outcome. Increased reliance on automated systems can threaten the whole ethos of the market.
If you did not work in the industry, what job would you like to do?
With better eyesight, I would have loved to have been a seagoing officer in the Royal Navy, when we had rather more war ships. Otherwise, I would have liked to have practised in the law, which is why my involvement with Insuralex gives my particular satisfaction.
Which other company in the industry do you most admire?
RK Harrison. Having just snapped up for business units from Marsh apparently for a song, it is clearly a smooth operator.
What do you see as the biggest challenge facing the industry?
Maintaining the industry's flexibility to be responsive to the needs and requirements of our customers, both pre- and post-loss, against what is often well-meant but inept bureaucracy and regulation.
How do you let your hair down?
Watching my boys play cricket and occasionally doing so (rather badly) myself. Not much play this summer, though.
If you could be anywhere in the world right now, where would you be?
Taking the family to see the wildlife in the Kruger Park.
What life lesson would you like to pass on to others?
If you put your mind to it, you really can achieve extraordinary things. It is easy to get into a rut, so use your brains, energy and initiative to move forward.
Where do you want to be in 10 years'time?
I am in very privileged position with a unique place in the market. I am enjoying myself thoroughly and will be happy to still be here in 10 years'time