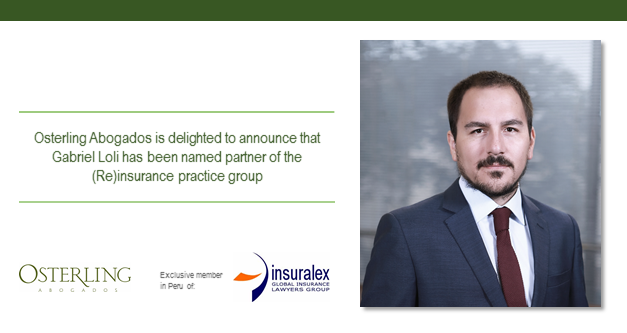 Osterling Abogados, Peruvian Insuralex member, is delighted to announce that Gabriel Loli (36) has become a partner with its Corporate Area, effective October 1st. This promotion ups to 11 the count of partners of the firm established in 1980.
Since he joined the firm in 2007, Mr. Loli has made significant contributions to the development and growth of the (re)insurance practice, which he currently co-heads. His deep understanding of the contractual and regulatory aspects that regulate the local market has allowed him to participate in claim reviewing, interpretation of different types of policies, discussion on coverage and risks relating civil liability, property, and construction for over USD300MM to date. He also develops the public law, arbitration, and construction practice in the firm, being a subject matter expert.
Enrique Ferrando, main partner and Chair of the Corporate Area, pointed out that "Gabriel's appointment enhances the renowned leadership that we hold in the (re)insurance Peruvian practice since the last 25 years, as well as it will also make easy deploying a number of innovative proposals, which are focused on our clients' needs, developing likewise synergies with other practice areas within the firm, all of which will result in a greater added value in our service offering".
Gabriel Loli is a lawyer from Universidad Privada Antenor Orrego (Trujillo – Peru) and has spent all his professional career at Osterling Abogados. Alongside with his practice, he actively contributes to the vocational training of next-generation lawyers, through our Trainees' Committee.
Link: http://www.osterlingfirm.com/miembros.html