September 12, 2016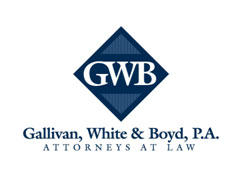 Columbia Attorneys Ashley B. Stratton and
Jordan Crapps Join Gallivan, White and Boyd

COLUMBIA, SC – Gallivan, White & Boyd, P.A. is pleased to announce that attorneys Ashley B. Stratton and Jordan Crapps have joined the firm and will be serving clients out of the Columbia, South Carolina, office. Stratton will assist clients as an Of Counsel in the Insurance and Reinsurance Practice Group and Crapps will serve his clients as an Associate in the Business and Commercial Law Practice Group.
Stratton is a complex litigation attorney who regularly represents insurers, third-party risk managers, corporations, and businesses in legal matters before the federal, state, and appellate courts. Ashley dedicates a significant portion of her practice on appellate law and advocates for her clients on issues related to insurance coverage, environmental law, and corporate and commercial transactions.
Crapps is also a litigation attorney who focuses his practice on the representation of clients in the business and commercial litigation, corporate and commercial transactions, and appellate practice areas. Before joining Gallivan, White & Boyd, Crapps served as an Assistant Attorney General for the Office of the South Carolina Attorney General. Specifically, Jordan practiced in the Securities Division where he oversaw and conducted investigations into securities related matters.
CONTACT:
Kevin Dehlinger
Marketing Director
Direct: (864) 271-5369
kdehlinger@GWBlawfirm.com
Gallivan, White & Boyd, P.A. has offices in Charleston, Columbia, Greenville, SC and Charlotte, NC. Practice areas include business and complex litigation, strategic risk assessment and counseling, and corporate representation. For more information about the firm, see